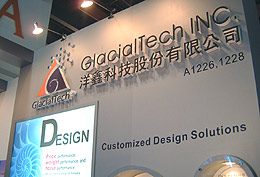 GlacialTech Inc. is primarily a low-cost heatsink manufacturer, and one which has never really been known for producing the greatest of concepts coolers at that. At computex 2004 GlacialTech had an impressive and expansive booth space, but very little that was being exhibited grabbed our attention. Many of the heatsinks hidden behind the clear plexiglass were older socket A or socket 478 models which had been around for years...
Given the companies marketing materials which promote a design philosophy of "Price performance, Weight performance and Noise performance," the lackluster Thermal performance of GlacialTech's heatsinks is hardly surprising.
Still, all was not lost. The company did have a very cute diorama of some handmade ants climbing the GlacialTech "Trubine" heatsink.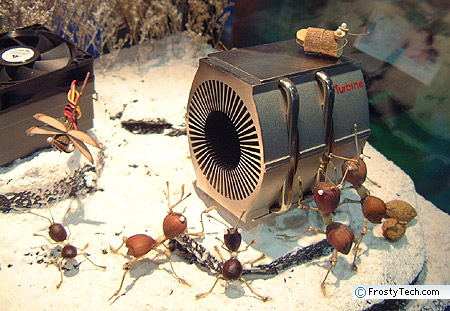 The design of the "Turbine" and its twin heatpipes is interesting, but we've seen heatsinks in the past from companies like Titan along the same lines, and the thermal results were particularly concerning. Generally speaking, if a heatsink "looks cool" without a lot of surface area, it performs hot. Without having tested this model first hand, it's impossible to say if its performance characteristics are good or satisfactory, however.