Thermalright is known for its thermal solutions which are sold without fans, allowing the user to build a cooling system which is as loud or quiet as desired. Higher performance demands can be addressed by adding a larger, louder fan. Conversely, lower noise concerns can be satisfied by installing large slow spinning fans which do not generate a tremendous amount of noise. Among the variety of heatsink trends to emerge in 2005, the lower noise moment was the most predominant. It was a welcome change judging by consumers response.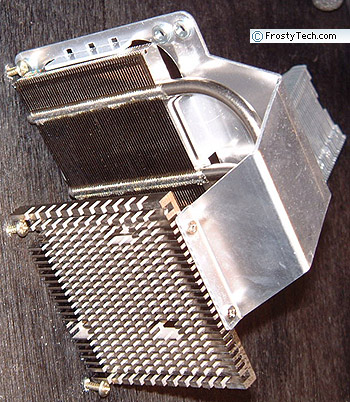 This Thermalright heatsink is for videocard users, and follows in the footsteps of Zalman's line of passive VGA heatsinks.
Two hallmark Thermalright heatsinks which are now widely available in stores.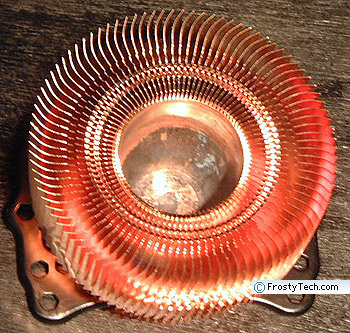 This solid copper Thermalright heatsink uses a similar construction to that of the Thermal Integrations prototype we examined previously.
Thermalright displayed an example of the platform the company uses to test its heatsinks. The DC power supplies supply current to a resistive heater located in a phenolic block below what is ironically a Coolermaster heatsink. A set of thermocouple thermometers measure the ambient temperature and synthetic CPU die temperature result from the test platform.