LexSystem was exhibiting some very small passive computers at Computex that could be ideal for any number of applications where noise and cooling fans are a no-go. Most of the units were in small 1U packages, but a few of the systems were in rack mountable configurations.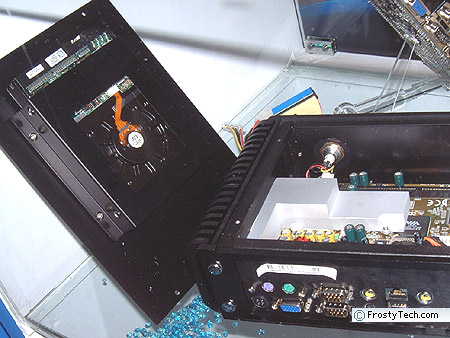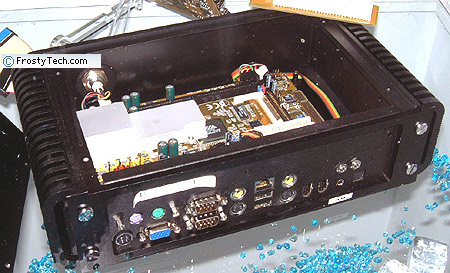 This LexSystem VIA C3-based all in one PC used a large aluminum block to transfer the heat from the CPU to the aluminum chassis which acts as the heatsink.
AOpen has introduced a few copper heatsinks in the past year or two, though mainly for its line of EXcube Small Form Factor barebones PCs. In FrostyTech's meeting with company, only one new model was on show for us to check out.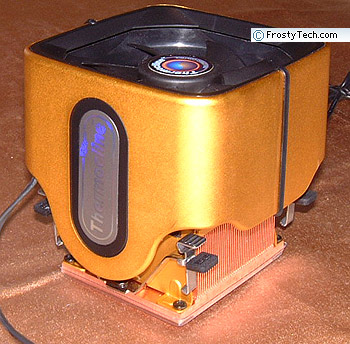 The Aopen 'Thermocline' Socket 478 heatsink. A skived copper heatsinks with large temperature controlled fan and a custom shroud.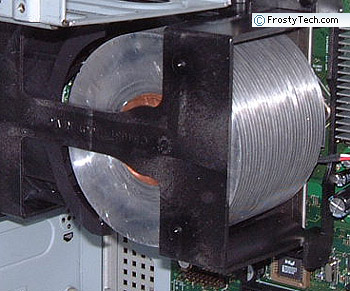 Although, a massive BTX heatsink was on show in one of AOpen's newest BTX cases. The cylindrical BTX heatsink works off of ducted airflow from a fan placed at the front of the PC chassis. In this orientation, the entire heatsink is like one giant pin of an heatsink with air flowing around it.