Foxconn manufactures everything from motherboards down the individual parts, sockets, and jacks that go into making a motherboard. It's only fair then to expect the company to get its hands dirty in the heatsink business too... after all what good is a motherboard if there is no heatsink on the processor?
FrostyTech met up with Foxconn during Computex in Taipei Taiwan, and examined several of the companies prototype heatsinks which were on display. Some prototypes are very innovative, some are pretty crude in appearance, and others offer debatable thermal potential.
Two different versions of the Foxconn X-1002 Prescott heatsink; each is made from a central copper cylinder surrounded by stacked copper disks with various venting patterns. Given the lack of a blow-through design (the edges are essentially sealed by the spacing flange of each disk) these prototypes appear to only be partially complete.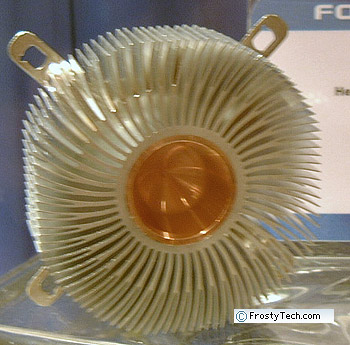 Foxconn Prescott-T FMB2 Intel Reference Design Socket 775 radial bifurcated fin heatsink.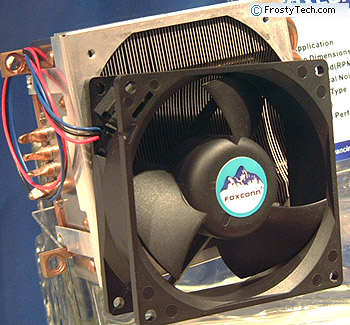 This large Foxconn 'K9' heatsink incorporates a 92x92x38mm 4000RPM fan that generates just 46dBA noise. Thermal Resistance was listed at 0.15 C/W. No model number was given. Note the construction method of copper base with four copper heatpipes extending back into the array of stacked aluminum fins. Just visible behind the fan, the aluminum fins are recessed to reduce the creation of a hot spot behind the fan motor.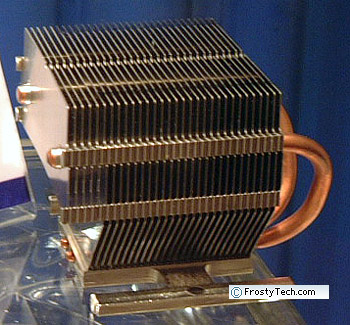 Foxconn X-1001 Prescott Desktop heatsink.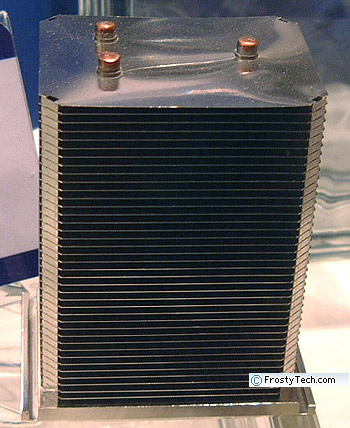 This is the prototype Foxconn X-1003 Nocona 'Tower Server' heatsink. A pretty rudimentary design for a ducted forced air server environment. The heatsink is composed of three vertical heatpipes and stacked aluminum fins.