Abstract: Since this 2005 synopsis is mostly an examination of heatsinks shot at recent trade shows, we'll jump right into the mix.



Home > Reviews > Page:

Zalman Heatsinks
Zalman Tech Co. has earned a solid reputation for developing quiet, well performing heatsinks with excellent build quality. The company has made inroads into passive water cooling, silent zero-noise cases, and videocard heatsinks.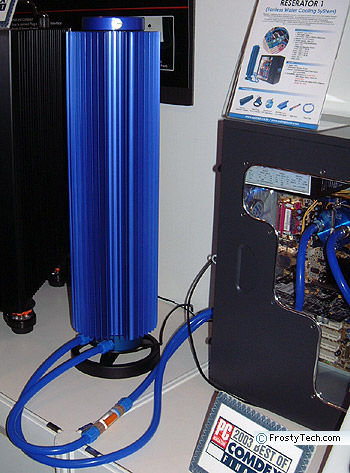 The Reserator 1 introduced a couple improvements over the first generation Reserator. This model shown here would later be improved with quick-change connectors.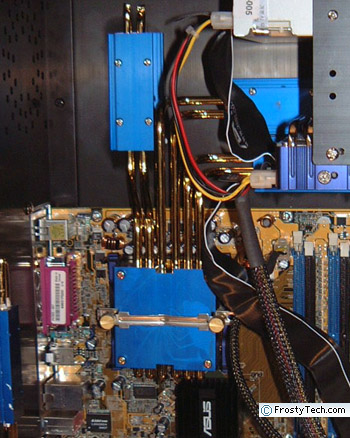 Inside the Zalman TNN500A case a lot of heatpipes are hard at work. The case works to remove heat generated by the CPU, hard drive, videocard, and chipsets to the chassis of the case frame.
The Zalman NEPS400 external power supply has not yet been released by the company. This external power supply incorporated the special flat power supply from the TNN case series in a stand alone platform. Heatpipes connect the power supply in the unit to cooling fins on the outside of the aluminum case.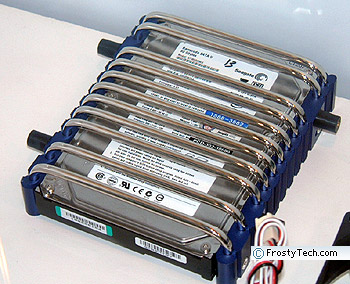 Zalman's hard drive cooling apparatus. The unit is supposed to keep the hard drive about 6 degrees cooler. Rubber posts reduce the transmission of vibrations to the rest of the chassis.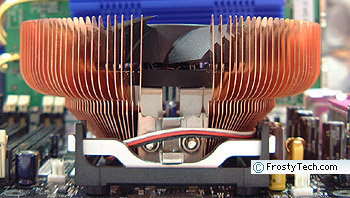 Zalman CNPS7700 series heatsink. This multi-CPU heatsink is considerably larger than the companies pervious model of the same general design.

Websites you may also like:
PCSTATS