In this review Frostytech will be testing out the Scythe Mugen 5 Rev.B heatsink, which on a side note has come along way from the very first Scythe Mugen heatsink we tested nearly 10 years ago! It's interesting to note that while many thermal solutions manufacturers have come and gone in the past decade, Scythe has diligently refined, iterated and improved its CPU coolers.
The Scythe Mugen 5 Rev B (SCMG-5100) heatsink is a lower-noise tower cooler standing 154mm tall and equipped with a single 120mm PWM fan. The Mugen 5 Rev B is constructed around six 6mm diameter nickel plated heatspipes which are swaged onto an array of raw aluminum cooling fins. The fins are moderately spaced so as to offer less airflow resistance, meaning a relatively low pressure (1.05mmH2O) fan rotating at 1200-600RPM can be relied upon. For those that prefer dead silent computers, Scythe supply an extra set of wire fan brackets so a second fan can be mounted to the rear of the Mugen 5 Rev B and both fans run at minimum RPM for ultra-quiet operation.
Rounding out the specs for the Scythe Mugen 5 Rev B heatsink, we see that it occupies a relatively boxy footprint of 130x110mm and weighs 890 grams, however the cooling tower is positioned asymmetrically to improve RAM clearance - more on that later. The coolers' six heatpipes are soldered to a 5-2mm thick nickel plated copper base plate for good thermal conduction and better heat spreading with multi-core processors.
Scythe's Mugen 5 Rev B (SCMG-5100) heatsink retails for about $75USD/CDN and is compatible with AMD socket AM2/AM3/AM4/FM1/FM2 CPUs and the full line up of Intel LGA2011 /1366/115x/775 processors.
Scythe Mugen 5 Rev.B Heatsink

---

heatsink specsheet
manufacturer: scythe
model no.: mugen 5 rev b (scmg-5100)
materials: aluminum fins, nickel plated copper heatpipes, aluminum base cap, nickel plated copper base plate
fan mfg: scythe su1225fd12m-chp
fan spec: 1200-600rpm, 12v, 0.13a
fan airflow: 51-16cfm
fan air pressure: 1.05-0.0762 mmh2o
fan dim: 25x120x120mm
heatsink & fan dim: 154x130x110mm
weight: 890 grams
includes: multi-socket socket mounting hardware, phillips screw driver, thermal compound, instructions.

---

Compatible with Sockets:
AMD - FM2/FM1/AM2/AM3/AM4
Intel - LGA2011/1366/115x/775
Pricing: $75USD ($75CDN)
The Mugen 5 Rev B heatsink has an asymmetrical design, meaning the tower of cooling fins is not centered directly over the heatsink base, but rather offset to one side by about 40mm. The reason this is done is memory slot clearance. With the 25mm thick fan installed, the width of the heatsink (front to back) at the typical hight of memory DIMMs is 98mm, meaning the heatsink will fit easily in between memory slots flanking the CPU socket.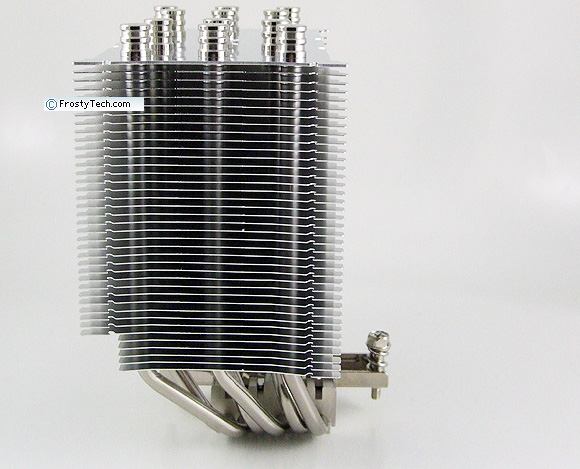 The fan supplied with the Mugen 5 Rev B features little rubber covers over the corners so no matter which way it's mounted, there is a soft, flexible material directly in contact with the edges of the aluminum cooling fins. If you've ever suffered from an intermittent rattling coming from inside your computer, you'll know how important it is to minimize sources of noise. The vibration dampening covers on the fan handle this job quite well.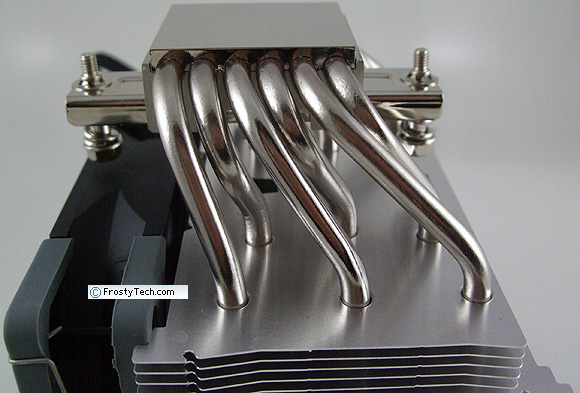 The asymmetrical design of the heatsink fin stack makes reaching the rear mounting screw a little tricky - a long phillips screwdriver is necessary - so Scythe have provided a suitable screw driver with Mugen 5 Rev B heatsink. Nice.
There is a trapezoidal cut out in the aluminum cooling fins for accessing the mounting screw.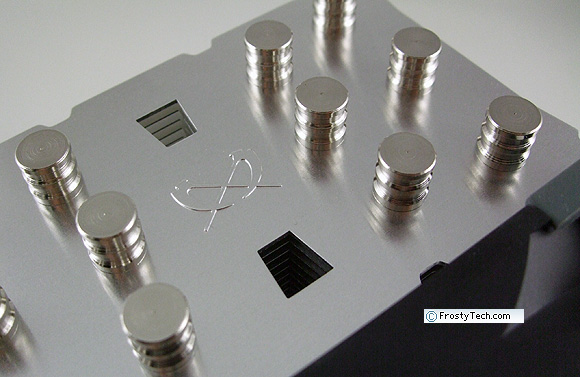 The six heatpipes are swagged into the aluminum fins (as opposed to soldered or adhesively bonded) and twelve decorative caps finish things off for a nice look. At the working end, the six heatpipes are soldered to a nickel plated copper base plate and nickel plated aluminum base cap.
The copper heatspreader is a good 2-5mm thick and helps to distribute heat from multi-core processors evenly to all of the heatpipes. Soldering, done properly and without voids, can be better than swagging which can damage some types of internal heatpipe wick structures and derate the working capacity of the heatpipe.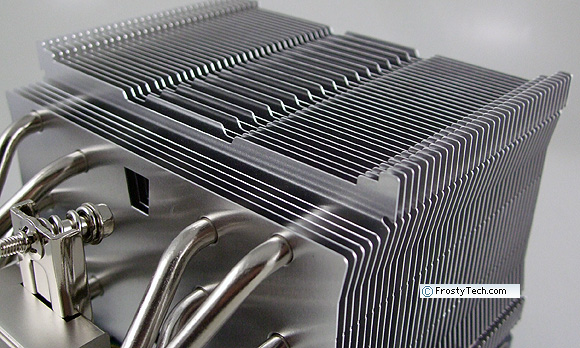 Heatsink Mounting Hardware
The Scythe Mugen 5 Rev B heatsink accommodates Intel socket LGA2011/1366/115x/775 processors and AMD socket AM2/AM3/AM4/FM1/FM2 CPUs. The heatsink ships with a metal rear motherboard support bracket, a variety of metal mounting brackets, associated hardware, a phillips screw driver, two sets of wire fan brackets and a small tube of grey thermal compound.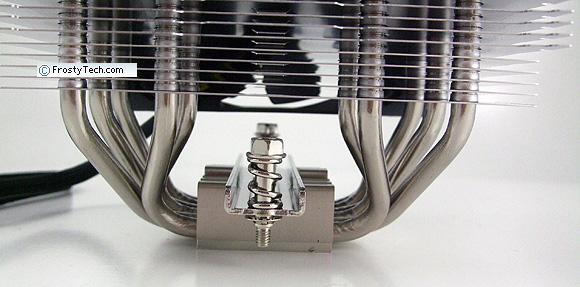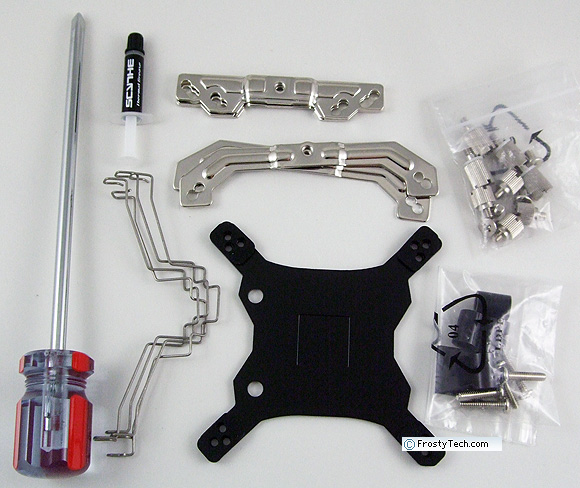 FrostyTech's Test Methodologies are outlined in detail here if you care to know what equipment is used, and the parameters under which the tests are conducted. Now let's move forward and take a closer look at this heatsink, its acoustic characteristics, and of course its performance in the thermal tests!