360° View - Scythe Mugen 5 Rev.B Heatsink

---

Information on Frostytech's test methodology is available here.

Scythe's Mugen 5 Rev.B heatsink stands 154mm tall and ships with a single 120mm PWM fan that draws power from a 4-pin PWM fan header. Six, 6mm diameter heatpipes pass through its 100mm tall fin stack and are spaced 50mm to 94mm apart. The ~39 aluminum cooling fins are spaced 2.0mm apart and each fin measures 0.4mm thick. The bottom-most cooling fin is elevated 43mm above the socket for good motherboard component clearance.

The Mugen 5 Rev. B's fan is held in place with springy wire fan clips that feature thumb tabs for easy removal. Rubber cups insulate all eight edges of supplied fan frame, so there's little chance of errant vibrational noises occurring from this Scythe heatsink. A second set of fan clips allows a user-supplied fan to install on the rear Mugen 5 Rev.B heatsink, if desired. The heatpipes are swaged into the aluminum fins and capped with small cosmetic ferrules at the top.

Note that the base of the Mugen 5 Rev.B heatsink is positioned asymmetrically towards the leading fin edge. This is done to allow the heatsink to fit between memory slots on motherboards where they straddle the CPU socket. A least 97mm of space between memory DIMMs is necessary, provided the sticks are less than 55mm tall.


The six heat pipes are soldered to a nickel plated copper base plate and chunky extruded aluminum cap which helps distribute the clamping forces. The nickel plated copper base of the Scythe Mugen 5 Rev.B heatsink measures 43 x 38mm in size and 5-2mm thick. The aluminum base support on top of the heatpipes is 16mm thick.
Base Finish and Flatness
Flipping a heatsink over to inspect the business end is often a simple indicator of overall cooler quality. More practically speaking, a heatsink is in many ways only as effective as the contact it makes with the processor - the flatter and smoother the better. Base finish is one of the criteria that Frostytech measure in the course of evaluating heatsinks, and it involves two distinct aspects. Surface Finish is the first; this is calculated with the aid of Surface Roughness Comparator that has a cross section of common machine surface finishes and their numerical surface roughness equivalents in microinches. The second is Surface Flatness. This is tested with an engineer's straight edge or proven flat surface, in two axes.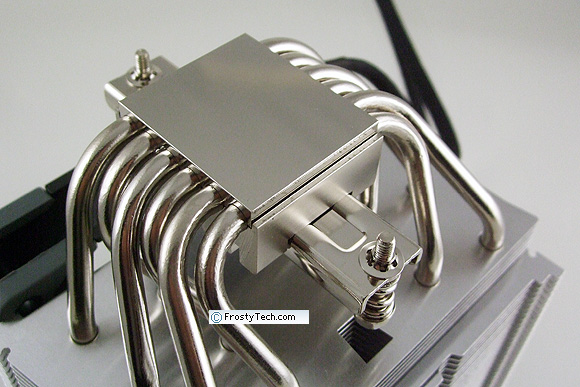 The heatspreader base of Scythe's Mugen 5 Rev.B heatsink is a 5-2mm thick slab of nickel plated copper. The copper appears to have been turned on a lathe and has a very smooth, machined surface finish; surface roughness is at or better than ~8 microinches.
Compared against an engineer's straight edge, the Mugen 5 Rev.B is flat in one axis and very slightly convex in the axis parallel with the heatpipes.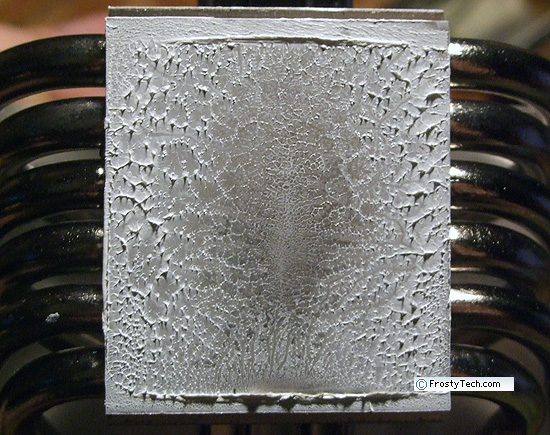 Here's a shot of the base of the Mugen 5 Rev.B heatsink after it was tested on one of Frostytech's synthetic thermal test platforms. The very slightly convex profile of the base is visible in the pattern left after thermal compound was squeezed out from the center region.
Sound level measurements are coming up next on Frostytech...