Noctua's low profile NH-L9x65 heatsink stands just 64mm tall and has a very compact footprint of only 95x95mm. The NH-L9x65 is designed to cool some fairly intensive Intel sockets, along with the full spectrum of AMD processors and APUs. Compact CPU coolers can be a little tricky to install, but Noctua long ago laid down the framework of an excellent motherboard mounting system, so the NH-L9x65 is a breeze to work with.
Weighing in at just 413 grams, Noctua's NH-L9x65 heatsink is built around four 6mm diameter copper heatpipes, a chunky copper heatspreader and a densely packed array of aluminum cooling fins. Every component in this heatsink has been nickel plated for longevity, all joints are soldered for lower thermal joint resistance, including those between the heatpipes and aluminum fins.
Within its compact 64x95x95mm volume, Noctua have squeezed in a 92x92x15mm fan that operates at 2500-1800RPM and moves upwards of 57.5m3/h of air at 2.11mmH2O static pressure (according to manufacturer specs). The remaining volume is occupied by a nickel plated aluminum cooling fin array measuring 34x95x81mm.
Noctua's low profile NH-L9x65 heatsink installs onto Intel socket LGA115x/LGA2011-0/LGA2011-3 and and AMD FM1/FM2/AM2/AM3 processors. Retail price is around $79CDN at Newegg.ca.
Noctua NH-L9x65 Heatsink

---

heatsink specsheet
manufacturer: noctua
model no.: nh-l9x65
materials: nickel plated aluminum fins, nickel plated copper heatpipes and copper base plate
fan mfg: noctua nf-a9x14 pwm
fan spec: 2500-1800rpm, 12v, 0.21a
Fan Airflow: 57.5m3/h, 2.11mmH20
Fan Dim: 15x92x92mm
Heatsink & Fan Dim: 64x95x95mm
Weight: 413 grams
Includes: Mounting clips, thermal compound, fan speed reducers, screwdriver, instructions

---

Compatible with Sockets:
AMD - FM2/FM1/AM2/AM3
Intel - LGA2011-0/2011-3/115x
(does not support LGA1366/775 without NM-13 mounting kit)
Pricing: $60USD ($79CDN)
MOUNTING KIT UPGRADEABLE TO SUPPORT AMD SOCKET AM4?

Manufacturer Provided Mounting Kit Required to Support AMD Socket AM4 Motherboards? YES

Manufacturer AM4 Kit Request Form Link:
https://noctua.at/en/nm-am4-mounting-kit-order-form

Noctua state: "Owners of Noctua CPU coolers can obtain the Noctua NM-AM4 SecuFirm2 Mounting-Kit free of charge via this form. A proof of purchase (electronic version, photo or scan of the invoice) of both a Noctua CPU cooler and either a socket AM4 mainboard or socket AM4 CPU are required. There is a dedicated upgrade kit (NM-AM4-UxS) available for NH-U14S, NH-U12S and NH-U9S"

For more details, heatsink exceptions and a complete list of incompatible coolers, see here.


Noctua NM-AM4 SecuFirm2 Mounting-Kit supported on following Noctua heatsinks Frostytech has tested: NH-C12P , NH-C14 , NH-D14 , NH-D15 , NH-D9L, NH-L12, NH-L9x65, NH-U12 , NH-U12P , NH-U9, NH-U9B . Noctua NM-AM4-UxS Mounting-Kit: NH-U14S, NH-U12S and NH-U9S.
Noctua NF-A9x14PWM Fan
The cooler ships with a single low profile 92mm NF-A9x14 PWM fan that spins at 2500RPM. The 15mm thick fan is notable for its use of embedded rubber vibration absorbers at each corner and special bumps and texturing on the impeller blades which reportedly improve fan performance. While it's difficult to tell exactly what impact these subtle textures make, the rubber clearly cushions the plastic fan frame from rattling against the aluminum fins in the event of a motor imbalance from dust build up.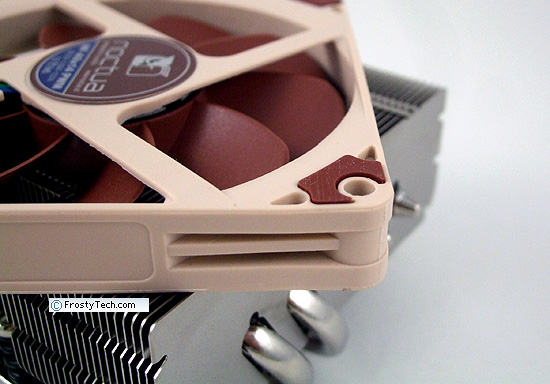 To maintain the compact 95x95mm footprint of the NH-L9x65 heatsink, Noctua have embedded both 6mm diameter heatpipes into the body of the cooler where they make a 180-degree bend.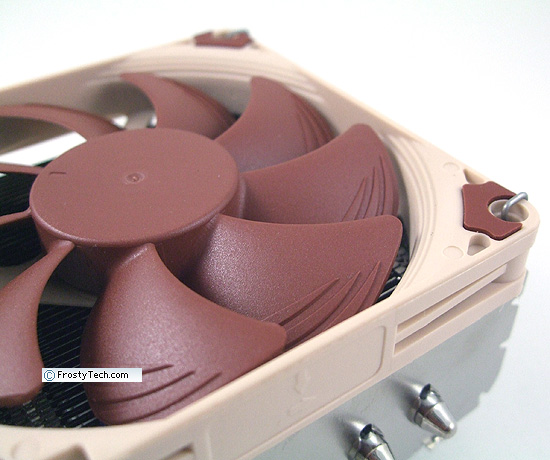 The 15mm thick NF-A9x14 PWM fan is held in place with a set of zero-profile wire fan clips. These clips ensure the heatsink stays within it's very compact footprint.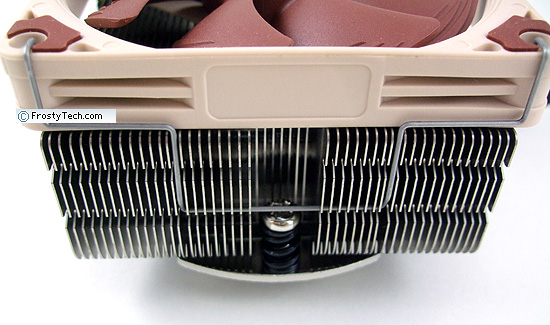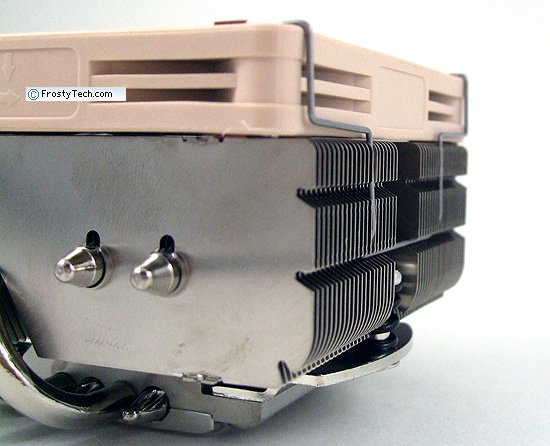 Beneath the fan is an aluminum cooling fin stack measuring 34x95x81mm in size. There are notches in the side of the fins a little closer to the top, indicating it should be possible to replace the 92x92x15mm fan with a 92x92x25mm fan, if the user desires.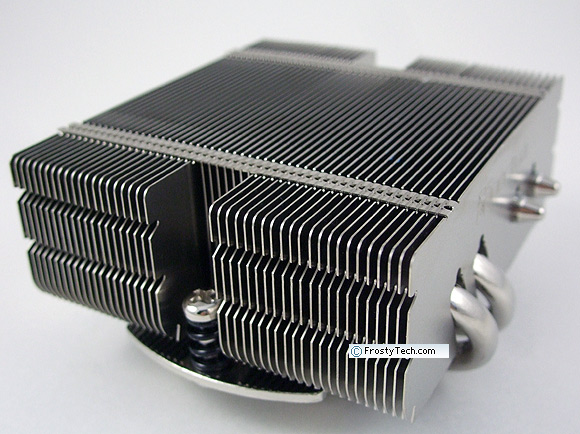 Heatsink Mounting Hardware
Noctua's NH-L9x65 heatsink is compatible with Intel socket LGA2011-0/LGA2011-3/LGA115x and AMD socket AM2/AM3/FM1/FM2 processors. Small metal tabs attach to the heatsink base for the various CPU socket types, with a metal backplate positioned behind the motherboard in some instances. The heatsink is fixed in place with two spring-tensioned screws. The installation process is straight forward and access is easy with the center fan popped out. This heatsink uses Noctua's SecuFirm 2 mounting system so it's backwards compatible with the Noctua NM-I3 mounting kit.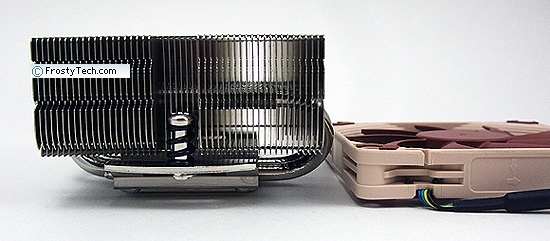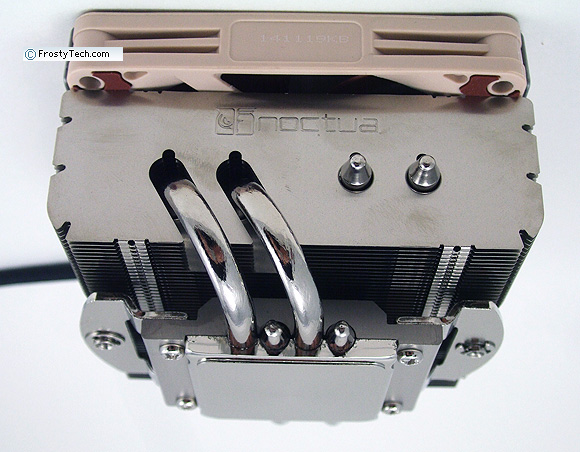 A multi-language manual is provided along with a screwdriver, Noctua NT-H1 thermal compound and a NA-RC7 wire fan speed reducer (lowers fan speed to 1800RPM).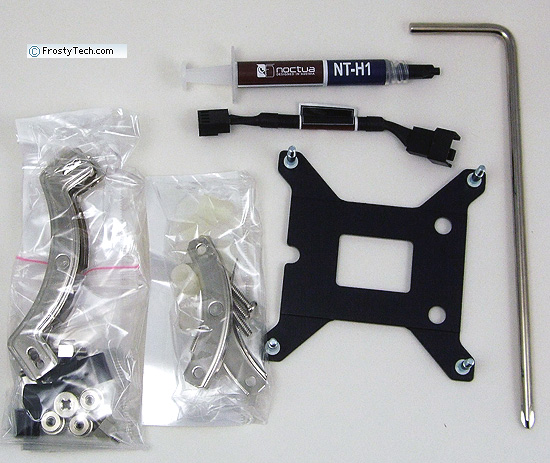 FrostyTech's Test Methodologies are outlined in detail here if you care to know what equipment is used, and the parameters under which the tests are conducted. Now let's move forward and take a closer look at this heatsink, its acoustic characteristics, and of course its performance in the thermal tests!