Way back in 1999 when I originally started FrostyTech.com, it was with a custom built self-contained liquid cooling system. Since that time we have added a few more custom cooling projects under our belts. The "Northern Lab" is where most of this custom cooling gear was built, but an equally sizeable portion of heatsink hybrids, and modding projects have taken place in the main FrostyTech lab - which if you ask has anyone who has seen it, is superbly messy like it should be. :-)
Low Noise Solutions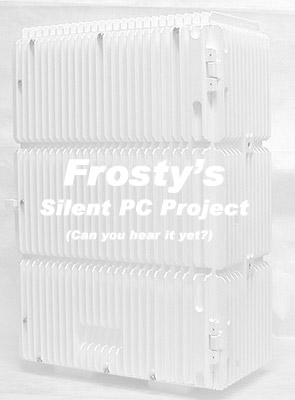 As part of our continued interest in low noise cooling we've begun assembling collection of tools you can use to help you quiet your own computer (without sacrificing cooling of course).
The two items covered in this most basic of starts are sound absorbing materials, and materials useful for liquid cooling operations. This is just the beginning, and in the coming months more materials, and perhaps a few guides will be listed here.
In the mean time, have a look through the different types of sound absorbing materials we've come across thus far.... and remember, this is just the tip of the iceberg.
Sound Absorbing Materials mini-catalog:
Liquid Cooling Materials mini-catalog: