Gelid's Tranquillo 4 heatsink is a 152mm tall tower cooler with a few subtle refinements that enable it to eke out good thermal performance at low cost. If you're simply searching for a straightforward CPU heatsink, the Tranquillo 4 will get the job done admirably for around
$45USD.
The Tranquillo 4 is built around four 6mm diameter copper heatpipes, a stack of ~40 nickel plated aluminum fins and a very unremarkable 1600rpm, 120mm PWM fan. The heatsink makes use of 'exposed heatpipe base' thermal design, wherein the heatpipes are mechanically flattened on one side so they sit flush against the CPU without requiring an additional heatspreader. In practice, provided the heatpipes aren't over flattened and the internal wick structure remains contiguous, this is a cheap and thermally efficient means of reducing thermal joint resistance. The manufacturing challenge is keeping the unconstrained heatpipes from shifting over time as swaged joints can loosen after prolonged heating and cooling cycles. To address this, Gelid appears to have soldered the heatpipes to the nickel plated aluminum mounting bracket which sits atop.
The other nod to good heatsink thermal design is soldered-on cooling fins. A small flange formed at the root of each fin where the heatpipe pierces it is best. Provided a healthy dose of solder paste is applied before the assembled heatsink makes its trip down the hot air reflow oven, there's a high probability of a sound thermal joint between the fins and heatpipes happening. Budget coolers tend to skip this entirely, the quick way to tell is to look for nickel plated fins and a small notch in each fin to one side of the heatpipe - this is where the strip of solder paste is applied to the heatpipe so it won't be wiped off when the fins are slid on. While the top fin is floating in thin air due to the crimp-taper of the heatpipes, Gelid have indeed soldered the aluminum fins in place on the Tranquillo 4 heatsink.
Beyond these little refinements, the Tranquillo 4 heatsink has a narrow footprint of 128x85mm with it's fan and that should allow it to fit on most motherboards with memory slots straddling a little too closely to the CPU socket.
Gelid's Tranquillo 4 heatsink ships with a single 120mm PWM fan rotating at 1600-750RPM that moves upwards of 65CFM at 2.18mmH2O pressure, according to manufacturer specs. The fan is held in place with good reliable metal spring fan clips and an extra set is supplied so users can install their own second fan if desired. Finally, Gelid supply a small syringe of Gelid GC-Pro thermal paste.
The Gelid Tranquillo 4 tower heatsink retails for around $45USD and is compatible with Intel socket LGA1366/115x/775 processors and AMD socket AM2/AM3/FM1/FM2 CPUs. Intel socket LGA2011 motherboards are not supported, nor is AMD socket AM4.
Gelid Tranquillo 4 Heatsink

---

heatsink specsheet
manufacturer: gelid
model no.: tranquillo 4
materials: nickel plated aluminum fins, copper heatpipes, aluminum base cap, exposed heatpipe base
fan mfg: gelid a1212025s(l)-p
fan spec: 1600-750rpm, 12v, 0.25a
fan airflow: 65cfm
fan air pressure: 2.18 mmh2o
fan dim: 25x120x120mm
heatsink & fan dim: 152x128x84mm
weight: 580 grams
includes: multi-socket socket mounting hardware, thermal compound, instructions

---

Compatible with Sockets:
AMD - FM2/FM1/AM2/AM3
Intel - LGA1366/115x/775
(LGA2011, AM4 not supported)
Pricing: $45USD ($60CDN)
Heatsink Details
The aluminum cooling fin array on the Gelid Tranquillo 4 measures 125x57x101mm in volume. The fins' leading and trailing edges have a shallow arc which naturally creates a small plenum behind the fan. A little bit of space between the rear of the fan and the cooling fins is important to reduce noise and ease air flow. Coming in at 580 grams, the Tranquillo 4 heatsink is a pretty lightweight CPU cooler.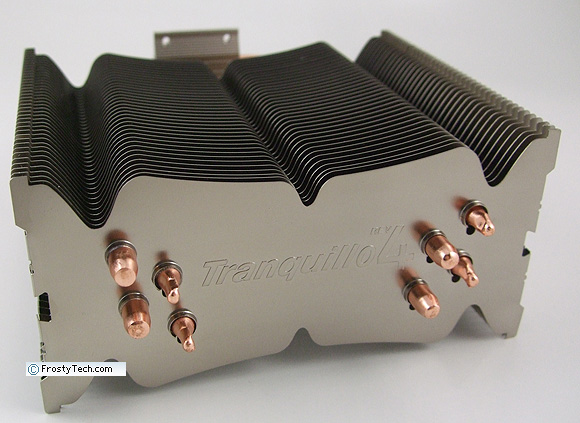 The four 6mm diameter heatpipes intersect the aluminum fin stack in an asymmetrical pattern, on a 10mm offset. That means air impinges around each of the four heatpipes sequentially as it progresses through the cooling fins.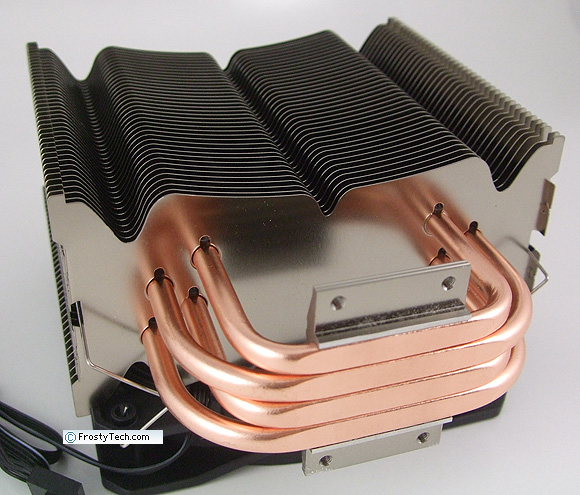 Spring wire fan clips are much more reliable than rubber types, but it's good to have thumb tabs to make installation/removal easier. That's not the case with the Tranquillo 4 heatsink.
The four 6mm diameter copper heatpipes are soldered to the nickel plated aluminum fins and to the heatsink's base cap which helps hold the exposed heatpipes in position.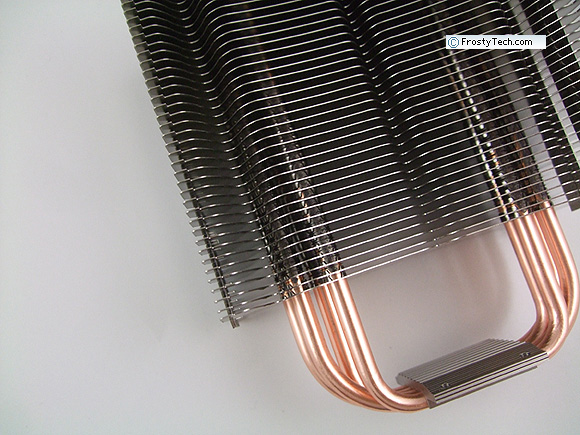 Heatsink Mounting Hardware
The Gelid Tranquillo 4 heatsink accommodates Intel socket LGA1366/115x/775 processors and AMD socket AM2/AM3/FM1/FM2 CPUs. LGA2011 and AM4 motherboards are not supported. The Tranquillo 4 ships with a metal rear motherboard support bracket, a variety of metal mounting brackets, associated hardware and an extra set of wire fan brackets. A small syringe of grey thermal compound is also supplied.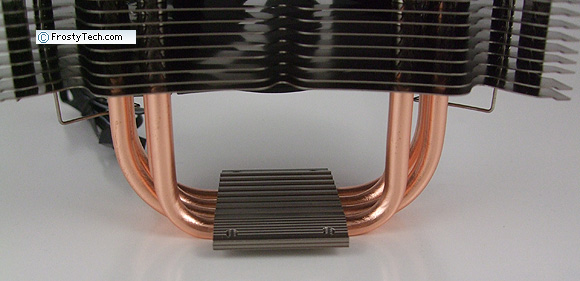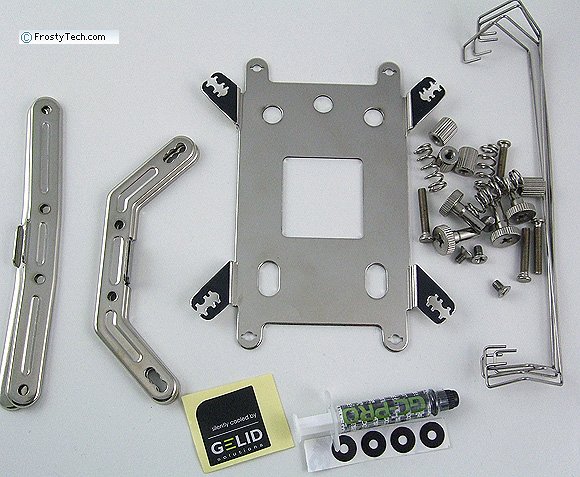 FrostyTech's Test Methodologies are outlined in detail here if you care to know what equipment is used, and the parameters under which the tests are conducted. Now let's move forward and take a closer look at this heatsink, its acoustic characteristics, and of course its performance in the thermal tests!