This Aerocool passive hard drive heatsink is an interesting device. The unit works along similar principles to that of the Zalman HDD heatpipe heatsink, but incorporates a set of angled aluminum fins to improve cooling capacity. The sides of the unit are aluminum with about four heat pipes going from end to end through the heat exchanger grill. With some airflow moving through the heat exchanger fins, this could be a very effective design that doesn't add any noise into the computer with cooling fans..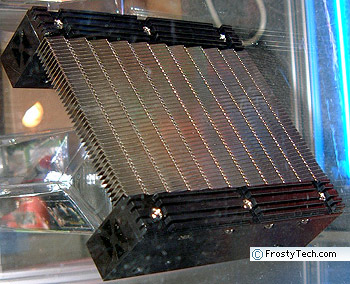 It was difficult to grab a photo of this all-in-one watercooling device made by Globalwin, but here's what we were able to see through the side of clear case. The unit is very similar to that of the Coolermaster Aquagate system in which reservoir and pump are integrated with the CPU water block.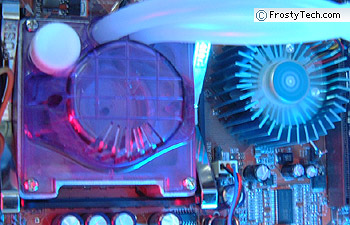 Another motherboard manufacturer to jump into the heatsink market is Gigabyte, and unlike Asus the company has introduced some very innovative and high performing solutions. The 3D-Cooler Ultra shown here combines heatpipes, copper, and a powerful fan to work in combination with portions of the motherboard power supply which also need cooling.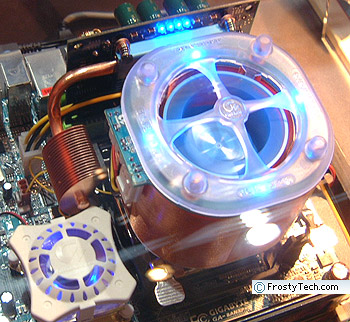 Gigabyte 3D-Cooler Ultra multi-CPU compatible heatsink.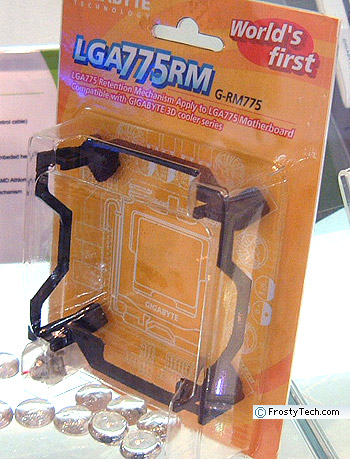 The Gigabyte G-RM775 retention bracket for socket 775 motherboards that allows socket 478 heatsinks to be used on the new CPU platform.