Zalman ZM80A-HP VGA Heatpipe Cooler Review
---
There was a time not too long ago when all graphics cards were cooled by tiny little aluminum heatsinks. Then along came ATI and Nvidia who developed faster and stronger GPU's which needed active cooling, and so fans were added.
The fans started off fairly quiet, but as graphic card technology continued to advance, things began to get louder and louder. Now as we sit in the face of nVidia's NV30 which is reported to produce as much as 60 Watts under load, it's comforting to find at least one manufacturer producing an after market VGA cooling solution that can handle the heat. Silently.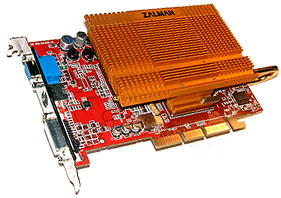 The Zalman ZM80A-HP is the latest incarnation of a revolutionary concept we saw introduced early last year, and one which has been garnering a lot of attention of late.
At first appearance, the ZM80A-HP seems complex and unwieldy. The large front and rear heatsinks stand out 15mm millimeters from the surface of the card, blocking off one PCI slot, and a special mounting bracket is all that makes direct contact with the GPU core. The gold plated heatpipe which has a diameter of just 5mm seems impossibly small for the task, and with so many joints in the assembly seems unlikely it will ever be able to transfer heat effectively. All those concerns are immediately put to rest of course, as we begin unpacking and flipping through the manual.
Each component in the ZM80A-HP package is well finished, and the instructions (which are a must read) are clear, concise, and illustrated very well. In addition to the actual heatsinks, core mounting bases, and heatpipe, Zalman also include a small phillips screw driver so you can assemble everything along with a pack of spare parts with spare thermal compound. With the aid of a very well laid out manual, and clear diagrams it's not too difficult to assemble the ZM80A-HP from its many parts.
VGA Card Specs

Parameter
ZM80A-HP
ZM80-HP
ZM50-HP
Weight:
400 grams
385 grams
130 grams
Surface Area:
1300 cm2
1000 cm2
400 cm2
Material:
extruded aluminum
extruded aluminum
extruded aluminum
There are actually two sets of base mounts; one for ATI cards which have closely spaced mounting holes, and the other for nVidia, SIS, etc. cards which have their mounting holes spaced further apart. In the following examples we'll be using a Crucial ATI Radeon 9700 as the main test bed since ATI have a number of problems with their OEM cooling solution.
Before we go further, I'm sure many of you are wondering just how a small gold plated copper tube can "magically" move heat energy from the front of a video card to the rear...