For the past couple months there's been a noticeable push by heatsink manufacturers to release compact, slim and low profile heatsinks that fit more easily onto today's motherboards. Judging by the amount of readers who turn to Frostytech's limited Top 5 Low Profile heatsinks charts, this is a welcome change from the era of monster tower coolers. We like the shift because it's gotten too easy to make a big heatsink perform well... yet it's still quite a challenge to design and manufacture a compact, slim or low profile heatsink that runs cool and quietly.
In this review Frostytech is testing the Phanteks PH-TC12LS heatsink, a top-down low profile heatsink that stands 74mm tall and weighs in at 500grams. The PH-TC12LS has a footprint about the size of the 120mm PWM fan that rests atop its black-painted aluminum fins. The cooler itself is built around six 6mm diameter nickel plated copper heatpipes which run the length of the fin stack, take a 180 degree turn and terminate in a thick copper heatspreader at the base - no exposed heatpipes here. The fan is mounted on little rubber pads to cut down on errant vibrational noises and it spins at 1800-500RPM, moving 53CFM at 1.72mmH2O according to manufacturer specs.
Phanteks' PH-TC12LS heatsink installs onto AMD socket AM2/AM3/FM1/FM2 and Intel LGA2011/1366/115x/775 processors. Retail price is estimated at $49USD/CDN through the usual computer stores.
Phanteks PH-TC12LS Heatsink

---

heatsink specsheet
manufacturer: phanteks
model no.: ph-tc12ls
materials: black painted aluminum fins, nickel plated copper heatpipes, nickel plated copper base plate, aluminum base cap
fan mfg: ph-f120mp
fan spec: 1800-500rpm, 12v, 0.20a
fan airflow: 53cfm
fan air pressure: 1.72mmh2o
fan dim: 120x120x25mm
heatsink & fan dim: 74x120x129mm
weight: 500 grams
includes: multi-socket socket mounting hardware, thermal compound, instructions

---

Compatible with Sockets:
AMD - FM2/FM1/AM2/AM3
Intel - LGA2011/115x/775/1366
Pricing: $39USD ($39CDN)
Like the Phanteks PH-TC14S heatsink Frostytech tested here , the Phanteks PH-TC12LS relies heavily on aesthetics. The aluminum fins have been painted black, which is not an ideal surface treatment because it insulates the aluminum fins from the surrounding air mass to some degree.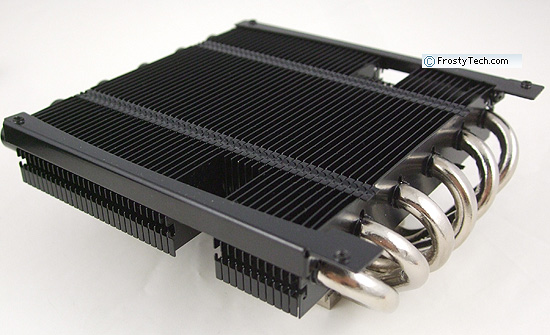 More importantly, closer inspection suggests that the entire zippered fin section was painted before being adhesively bonded to the heatpipes. That means two things; there is a thin layer of paint between the metal fin and the heatpipe and secondly, where there is insufficient adhesive, there is going to be high thermal joint resistance. The outside aluminum fins can actually slide a little on the heatpipes, for example.
With a heatsink this compact, Phanteks would have been better off to ditch the paint altogether and solder the fins directly to the heatpipes, lowering thermal resistance on two fronts.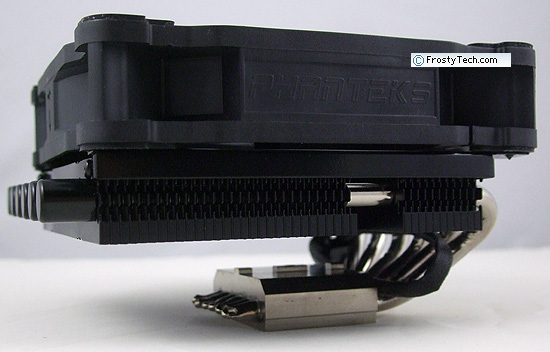 The 120mm fan itself rests a few millimeters above the top surface of the 19mm thick painted aluminum fin stack, so there's not much of a plenum behind the fan either. This can lead to areas of little airflow, typically behind the motor hub of the fan. The fan does at least rest on little anti-vibration pads to keep rattling noises from developing.
The tips of all six heatpipes are capped for aesthetics.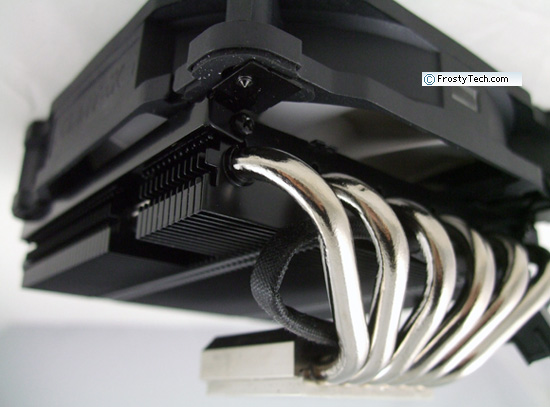 At the base there's about 13mm clearance to position the heatsink mounting bracket on top of a little alignment lug. It's a close fit that does take a bit of fiddling, but installing the heatsink is not otherwise very difficult. The mounting bracket uses spring tensioned screws ensure even mounting pressure is applied.
Heatsink Mounting Hardware
The Phanteks PH-TC12LS heatsink accommodates Intel socket LGA2011/1366/115x/775 processors and AMD socket AM2/AM3/FM1/FM2 chips. The heatsink ships with a metal rear motherboard support bracket, a variety of metal mounting brackets and associated hardware. Phanteks include extra fan clips, vibration absorbing strips and a syringe of thermal compound.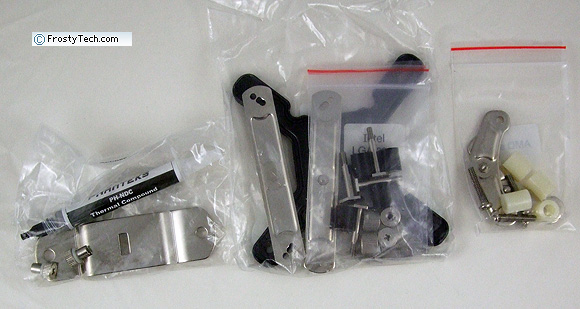 FrostyTech's Test Methodologies are outlined in detail here if you care to know what equipment is used, and the parameters under which the tests are conducted. Now let's move forward and take a closer look at this heatsink, its acoustic characteristics, and of course its performance in the thermal tests!