Coolermaster's Nepton 240M self-contained liquid cooling solution closely follows in the footsteps of the impressive Cooler Master Nepton 280L which managed to rise to the top of all three Frostytech heatsink reference charts, last year. That makes for some pretty big shoes to fill, but is the new Nepton 240M model really on the same level as the Coolermaster Nepton 280L ?
Let's consider that question by examining the numbers. For starters, Coolermaster's Nepton 240M utilizes a 277x120mm aluminum heat exchanger that measures 28mm thick. Attached to the Nepton 240M's radiator are two 120mm PWM 'Silencio FP 120' fans placed side by side. The 'Silencio' is a novel high-pressure fan that spins at 2400RPM-800RPM to drive up to 76CFM at 4.8mmH2O air pressure, according to manufacturer specs. The five-bladed impeller on the Silencio fan stands out compared to a standard 120mm fan which generally has seven or nine, narrow impeller blades. As to the "high pressure" label, by way of comparison, the Seidon 240M uses standard 120mm fans rated 86CFM at 4.16mmH2O air pressure.
Connecting the heat exchanger to the Nepton 240M's waterblock is a 310mm length of 13mm O.D. corrugated Fluorinated Ethylene Propylene (FEP) tubing. While the Nepton 280L system uses larger, 15.5mm OD tubing, most AIO water coolers these days still utilize 9.5mm OD tubing. Larger diameter tubing allows more coolant to circulate through the waterblock and heat exchanger circuit at any given moment, so it will be interesting to see how the Nepton 240M stacks up, given that it occupies the middle ground in this respect.
The waterblock/pump head on the Nepton 240M appears identical to that used on the Nepton 280L ; the same micro skived copper fin cold plate is utilized and the external dimensions match up. Details on the integral pump flow rate and head pressure are undisclosed, though pump lifespan is still rated at 70K MTBF.
Coolermaster's Nepton 240M all-in-one liquid cooling solution supports Intel socket LGA2011/1366/115x/775 CPUs and AMD socket AM3/AM2/FM1/FM2 processors. The Nepton 240M is covered by a 5 year warranty and retails for $110 USD at Newegg.com, $99 CAD at NCIX.ca.
Coolermaster Nepton 240M Liquid Cooling System

---




heatsink specsheet
manufacturer: coolermaster
model no.: nepton 240m
materials: aluminum radiator, copper-base water block.
fan mfg: a12025-24rb-4bp-f1

fan spec: (x2) 2400-800rpm, 12v, 0.8a

fan dim: (x2) 25x120x120mm
waterblock dim: 48x76x70mm
heat exchanger dim: 28x277x120mm
pump spec: n/a
flow rate: 120 l/hr
head: n/a
tubing: 13.0mm o.d., 310mm length
coolant: distilled water/propylene glycol
weight: est. 900 grams
includes: multi-socket mounting hardware, thermal compound, instructions.

---

Compatible with Sockets:
AMD - AM2/AM3/FM1/FM2
Intel - LGA2011/1366/115x/775
Price: $110USD ($93CDN)
Waterblock / Pump Head
The Nepton 240M's pump head stands 48mm tall, by 70x75mm in size. The pump motor is very quiet in operation and draws power from a standard 4-pin motherboard fan header (12V, 4.8W). There's no fancy USB interface to control pump speed or anything that requires software (totally unnecessary). When the pump is powered up, the Coolermaster emblem on top glows white as a visual indication of the pumps' power status. This may seem like a minor bit of eye candy, but there's no other way to tell if the coolant pump is actually on.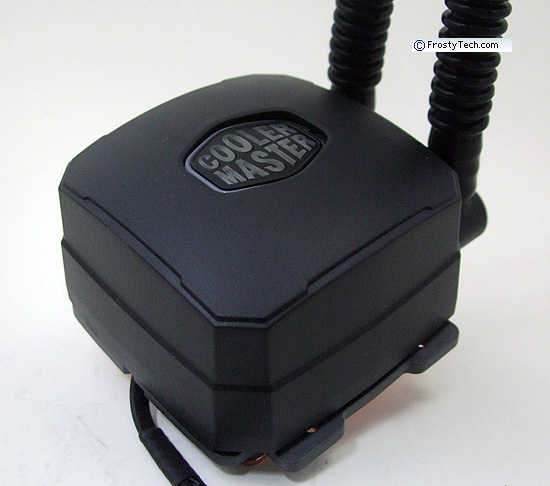 With water cooling systems of this general design, there is so little thermal mass in the pump head that a coolant stoppage for more than a few seconds will send CPU temperatures skyrocketing. Having a visual indication to confirm the pump is powered up is a good thing in our books. On at least one occasion while testing another AIO cooler without any indicating lights, the pump power cable became disconnected during a test and test temperatures rose so high that the O-rings were damaged! Moving on...
Overall, the waterblock / pump head feels very rigidly built; there's even a bit of shrink wrap to protect the electrical leads from chafing, which is nice.

Both tubing connections going into the waterblock can swivel 90-degrees, the connections to the heat exchanger are static. For whatever reason, the swivel pipe joints on the unit Frostytech tested were way too stiff, so it was difficult to maneuver them around.
Swivel connectors may be a potential leak point if they require that much force to rotate, but they make it simpler to route the FEP tubing in the direction of heat exchanger during installation. The FEP tubing becomes more flexible once it is warmed up, it also 'stress relieves' somewhat to adopt the routed path more permanently. Having tested liquid coolers with FEP and rubber tubing over the years, we tend to prefer the FEP material since it's flexible, kink resistant and apparently has a lower evaporation rate than rubber.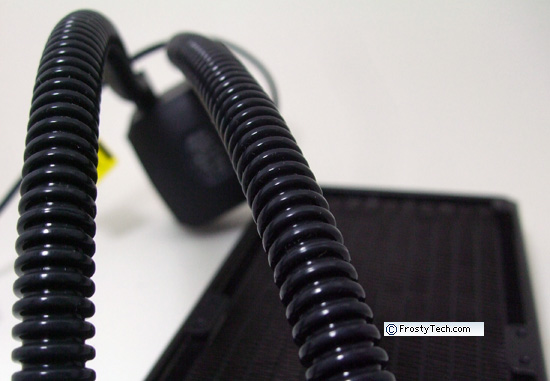 The FEP tubing connecting the heat exchanger and water block measures 31cm long. As we mentioned earlier, the Nepton 240M uses 13mm O.D. FEP tubing. Flagship coolers like the Nepton 280L use 15.5mm O.D. FEP tubing and more mainstream (or early AIO coolers) tend to use small diameter, 9.5mm O.D. FEP tubing.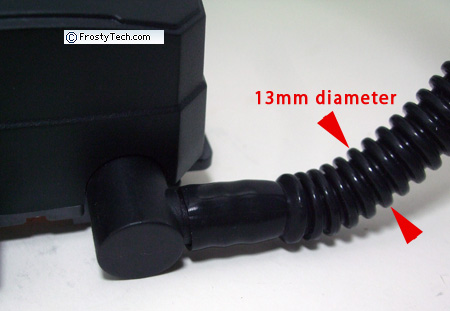 Nepton 240M FEP tubing outside diameter: 13mm.
The coolant used in the Nepton 240M is most likely a mix of Propylene Glycol with distilled water, however the manufacture does not disclose the exact formula.
Inside the pump head you will find a copper plate with a series of micro-skived copper fins, as pictured below. This is the working end of the Nepton 240M waterblock: a skived copper fin patch roughly 35x40mm in size (31808mm2 of skived fin area), on an underlying copper heatspreader measuring ~1.5mm thick.

Based on previous AIO water blocks Frostytech has disassembled, we know that coolant enters the skived copper fins along the central axis where it's then forced by a rubber gasket or stainless steel shield to flow through the micro-skived copper fins (picking up heat energy) before exiting along the outer edges where it's then pumped to the aluminum heat exchanger.
Liquid-to-Air Heat Exchanger
The Nepton 240M is equipped with a 277x120mm aluminum heat exchanger that measures 28mm thick. It accommodates two 120mm fans on each side and uses a thin rubber vibration absorbing pad to eliminate potential rattling noises if the fan screws ever work loose.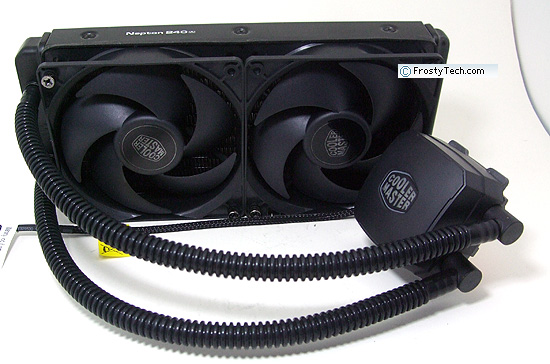 Coolermaster Silencio Fans
As you've probably already noticed, the fans on the Nepton 240M don't look like regular 120mm fans. The Silencio FP 120 type fans feature a 5-bladed impeller that is capable of moving air at a higher pressure without generating excessive noise. Fan MTBF is rated at 160K hours.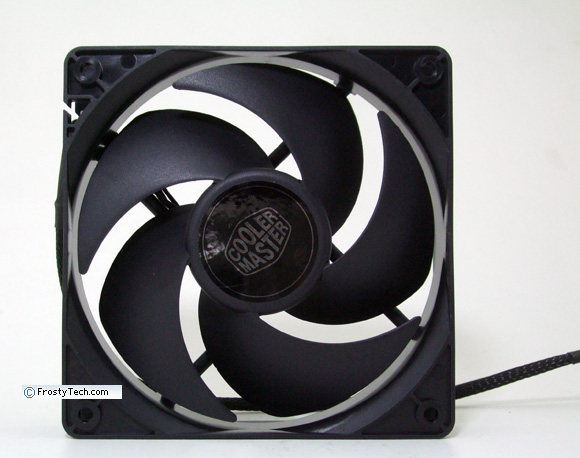 The Silencio FP 120 fan is designed to move air with a higher static air pressure, the point of which is to overcome the airflow resistance (or "back pressure") of the heat exchanger. According to manufacturer specs, the fans can move between 16-76CFM of air at an air pressure ranging from 0.48 - 4.8mmH2O.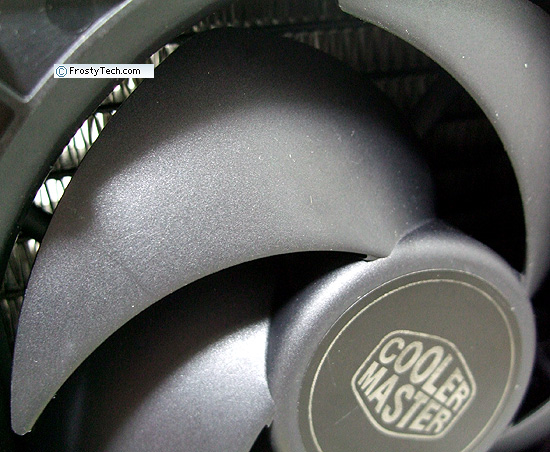 As with previous Coolermaster liquid coolers, the thumb screws used to mount the 120mm fans all have threaded heads. This means you can completely assemble the heat exchanger and fans together, then mount the complete package to the chassis fan vents with a couple screws. No more fishing screws through the back of the chassis, through the fan and into the radiator!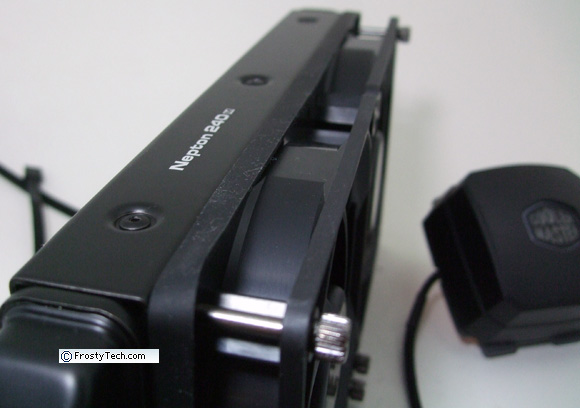 Obviously, if your computer case does not have a pair of 120mm fan holes located at the back of the case or along the top, mounting may require some custom modifications to the PC chassis.
Installation Hardware
The Nepton 240M is compatible with Intel socket LGA2011/1366/115x/775 and AMD socket FM2/FM1/AM2/AM3 processors. The system ships with a universal motherboard bracket and two pairs of metal mounting plates that attach to the pump head to facilitate each particular socket. A PWM fan splitter and small syringe of thermal compound are also included.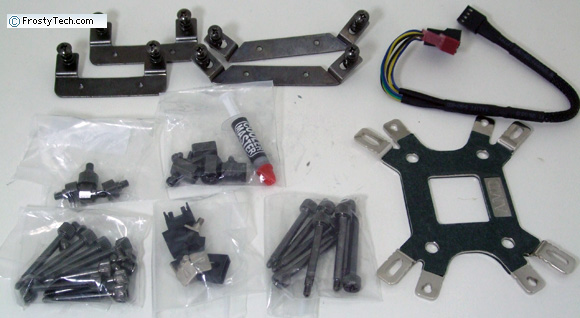 The Nepton 240M ships fully assembled, plumbed and filled with coolant. A single 4-pin motherboard fan header supplies power to the pump and the two PWM fans can work off separate fan headers or via the PWM Y-splitter which is included.
This heatsink will be tested on FrostyTech's Intel and AMD version of the Mk.II synthetic thermal temperature test platform, and compared against hundreds of reference Intel and AMD heatsinks. The whole test methodology is outlined in detail here if you'd like to know what equipment is used, and the parameters under which the tests are conducted.