Corsair's Hydro H100 is a no fuss, self contained CPU liquid cooling solution for use on Intel socket LGA2011/1366/1155/1156/775 and AMD socket AM3/AM2/FM1 processors. The system consists of two parts; a 12v DC pump head with skived copper waterblock and a large aluminum liquid-to-air heat exchanger.
The Hydro H100 heatsink ships fully assembled, filled with a propylene glycol based coolant and plumbed. The waterblock is connected by 24cm of flexible FEP tubing to the heat exchanger which measures about 274x120x25mm in size. Two 120mm fans are included, these operate at 2600-1300RPM and create a fair bit of noise at full tilt. Retail price for the Corsair Hydro H100 thermal solution is pegged at $119 USD/CDN. Just keep in mind the Hydro H100 requires a PC case with two side-by-side 120mm rear fan holes.
If you stop by Frostytech often you'll no doubt recognize that Corsair's Hydro H100 liquid cooling system is essentially identical to the Hydro H80 unit Frostytech tested previously. The only difference between the two is the size of liquid-to-air heat exchanger and quantity of fans the pump head can manage. Where the Hydro H80 used a roughly 120mm square by 45mm thick heat exchanger, the Hydro H100 has a ~240x120mm rectangular, 25mm thick unit. Both watercooling systems come with two 120mm fans, the Hydro H80 has them positioned inline while the Hydro H100 has the fans set side-by-side.
Whether you choose the Hydro H100 or H80 basically comes down to how many 120mm rear fan ports your PC case has. If there's room for two 120mm rear exhaust fans in that full tower chassis, the Hydro H100 should fit.
Corsair Hydro H100 Watercooling System

---




heatsink specsheet
manufacturer: corsair
model no.: hydro h100 (cwch100)
materials: aluminum heat exchanger, skived copper water block.
fan mfg: corsair cf12s25sh12a

fan spec: (2x) 1300-2600rpm, 12v, 0.35a

fan dim: (2x) 25x120x120mm
waterblock dim: 39x68x68mm
heat exchanger dim: 274x120x25mm (w/o fans)
pump spec: 12v dc, 0.1a
flow rate: 2l/min
head: 112cm h20
coolant: propylene glycol / distilled water, anticorrosion/antifungal
weight: est 1200 grams
includes: multi-socket mounting hardware, thermal compound, instructions.

---

Compatible with Sockets:
AMD - AM2/AM2+/AM3/FM1
Intel - LGA775/1155/1156/1366/2011
Est. Pricing: $119USD ($119CDN)
The majority of self-contained liquid cooling systems on the market right now are manufactured by three companies; Coolit Systems, Asetek and AVC. The Corsair Hydro H100 is made by CoolIT Systems out of Calgary, Canada.
The Water Block
The Pump Head / Water Block is a 68x68x39mm box that mounts on the processor. An illuminated button up to gives several steps of fan speed control. According to the specs, the pump operates at 2100RPM with a flow rate of 2L/min. Pump head pressure is pegged at 112cm H2O and the motor is rated fro 50K hrs MTBF. The pump is very quiet in operation.
Inside Corsair's Hydro H100 waterblock is a bit of circuitry for the pump motor, four fan power connections, the Corsair LINK connection, a thermistor, some LED lights and a thin micro-skived copper water block.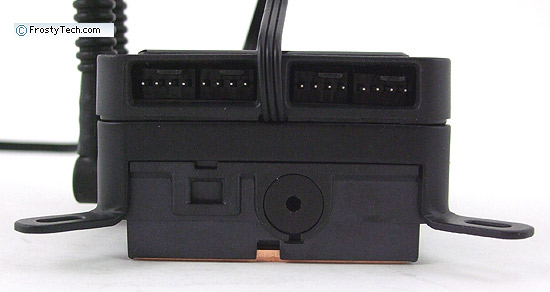 The two FEP hoses that come off the Hydro H100 waterblock are 9.5mm (O.D.) and connect with swivel joints. The swivels make it a lot easier to get the semi-ridged hoses pointed in the right general direction.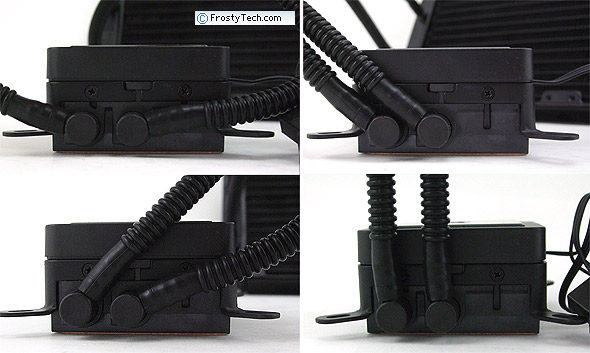 Swivel pipe connections
CPU-to-Liquid Heat Exchanger
Let's examine the working end of the Hydro H100's pump head/waterblock by removing the eight screws that hold the copper base plate down. Inside we find brass thread inserts (good), a small kapton wrapped thermistor (at upper left), a channel for the o-ring (not present), a soft white silicone gasket and a very small volume of coolant. Taking the top of the pump head/waterblock off reveals mostly empty space... the few millilitres of coolant you see is all the fluid reservoir there is.

Inside the waterblock/pump head
The copper base plate is ~2mm thick and incorporates a small micro-skived copper fin patch to increase the surface area in contact with coolant.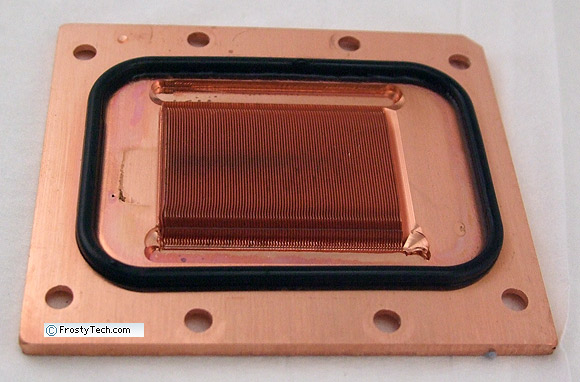 CPU-to-liquid heat exchanger
The liquid impinges this small but dense section of copper fins along a center line (marked in blue, below), then travels between the fins outward to troughs that collect the warmed coolant before it's pumped on to the liquid-to-air heat exchanger. The skived fin area measures ~30x30x5mm in size.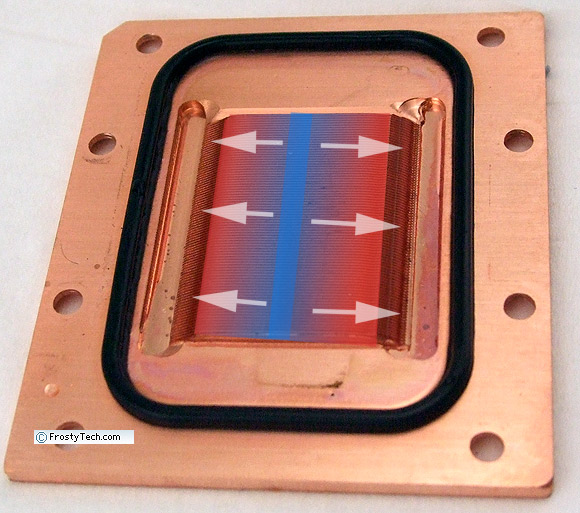 Resting on top of the skived copper fins is a soft white silicone pad with a narrow slot down the middle that directs fluid flow. This gasket forces the liquid to flow in between the ~5mm tall skived copper fins as the tops of the fins are flush to the silicone. The high degree of copper surface area in contact with coolant makes the Hydro H100 efficient.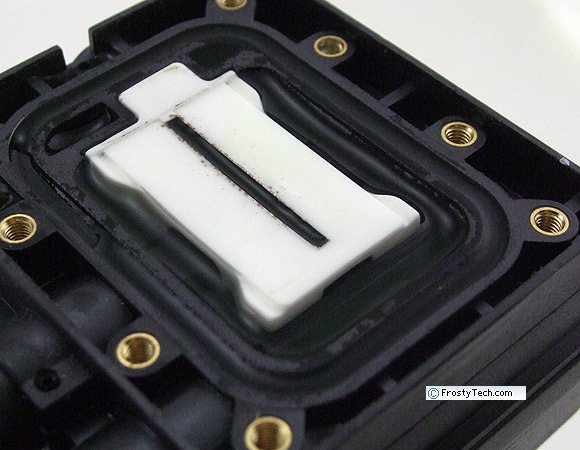 The O-ring is not shown in the above image.
The caveat to this and every other water cooling solution is of course, there's no capacity for conduction cooling if the coolant stops. Stop the coolant flow for whatever reason and CPU temps increase rapidly, dramatically. Watercooling also does nothing to cool adjacent motherboard VRM or memory modules. You may need to consider adding a fan if your board has a great many passive heatsinks around the CPU socket.
Next up, Frostytech outlines a few of the problems we encountered with this self-contained liquid cooling solution. First though, a look at the heat exchanger and special tubing it uses....