The Corsair Hydro H100 is compatible with Intel socket LGA2011/1366/1155/1156/775 and AMD socket AM2/AM3/FM1 processors. The pump head ships with two metal brackets; a pair for AMD motherboards and one set for Intel motherboards which ship already installed. A special rear motherboard support plate is used with Intel platforms while the AMD bracket makes use of the standard AMD heatsink retention cage.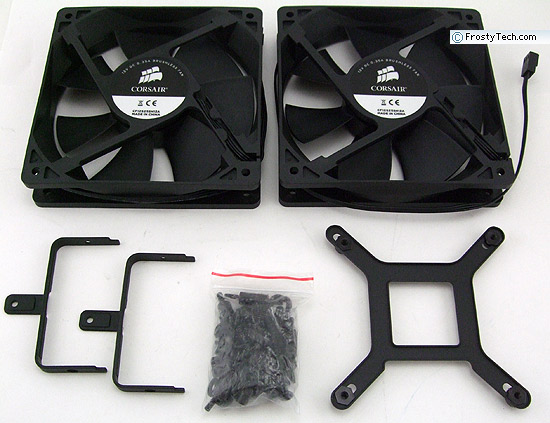 The printed instructions have no words, but if you're experienced at assembling Ikea furniture you'll do fine. Additional textual context is really due for this heatsink, Corsair fall short in that respect.
Equal Clamp Forces
While installing the Hydro H100's waterblock it's really important to tighten the CPU socket mounting screws methodically so clamping forces are EQUALLY distributed across the surface of the processor. The first time Frostytech installed one of the Hydro waterblocks, owing to the uneven load placed on it by the dangling FEP tubing and heat exchanger, the copper base plate wasn't mounted flush. It was difficult to see, but the copper block only made contact with 2/3rds of the CPU IHS.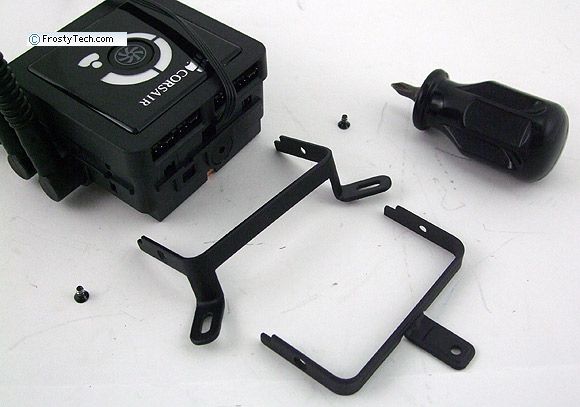 A more careful re-install solve the issue, but better engineered mounting brackets would certainly lesson the chance for installation error. Spring tensioned screws are the standard fix for uneven mounting bracket forces, so we'd consider their absence of a bit of a design oversight on the OEM's behalf.
Difficult Fit For Intel spec'd LGA775 Hole Spacing
Update May 15, 2012 - Corsair informed us that a Part Change Notification was issued and that production has corrected the LGA775 hole spacing issue detailed below.
The second issue Frostytech came up against is that the OEM manufactured the Intel brackets slightly out of tolerance for LGA775 hole spacing; the units we tested don't quite fit the Intel spec'd 72.5mm hole spacing when mounted on the plastic waterblock frame. With a motherboard this might not matter as much, as the PCB through-holes are 4mm diameter so screws can go in slightly angled. However, Frostytech's Intel thermal test platform uses threaded studs and that means mounting screws not at 90-degrees won't thread properly.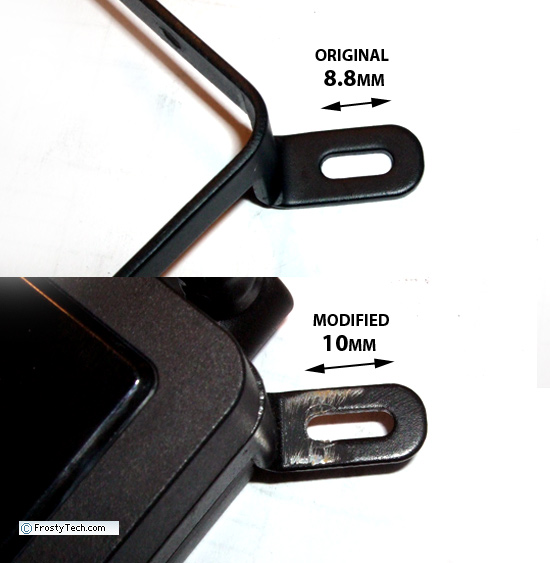 To fix this, we ground out the inner-side of the slots punched into Corsair's Intel mounting brackets an extra ~1mm. Heatsink mounting brackets are typically SK6 heat treated steel, so it's better to grind.
This heatsink will be tested on FrostyTech's Intel LGA1155/1156/775 and AMD version of the Mk.II synthetic thermal temperature test platform, and compared against a hundred reference Intel and AMD heatsinks. The whole test methodology is outlined in detail here if you'd like to know what equipment is used, and the parameters under which the tests are conducted.