360° View - Corsair Hydro H100 Watercooling System

---

Information on Frostytech's test methodology is available here.

The Hydro H100 pump head stands 39mm tall. There are no provisions for removing the ~9mm OD FEP tubing for inspection, system refill, top up or cleaning. The metal mounting bracket tabs are changed out depending on AMD or Intel CPU application. One of the nice features with this set up is the swivelling pipe connections which have a good 120 degrees freedom.

At left are four fan power connections for managing the fan speed. The LINK port is pictured at right. The pump head measures 68x68m square. Power is supplied by a regular molex connector with a separate RPM pin.

The copper baseplate is held in place with eight small countersunk cap screws, a rubber washer just inside the flange means the screws are not in contact with the coolant. This is important as steel in contact with copper and aluminum can create a situation where the more electronegative metals cause the ferrous based materials to corrode. The copper base measures 60x52mm in size and ships with a pre-applied patch of thermal compound (shown removed).
Base Finish and Flatness
Flipping a heatsink over to inspect the business end is often a simple indicator of overall cooler quality. More practically speaking, a heatsink is in many ways only as effective as the contact it makes with the processor - the flatter and smoother the better. Base finish is one of the criteria that Frostytech measure in the course of evaluating heatsinks, and it involves two distinct aspects. Surface Finish is the first; this is calculated with the aid of Surface Roughness Comparator that has a cross section of common machine surface finishes and their numerical surface roughness equivalents in microinches. The second is Surface Flatness. This is tested with an engineers straight edge or proven flat surface, in two axis.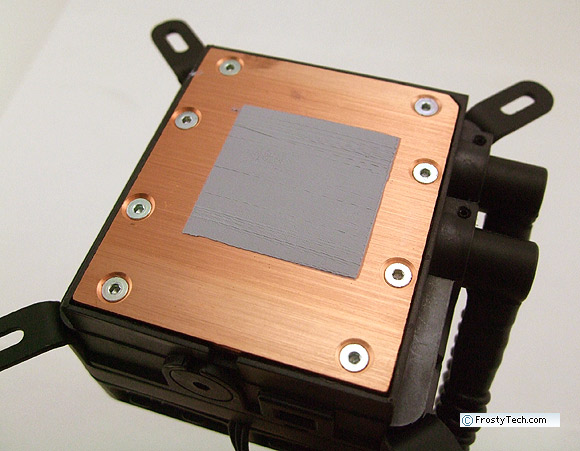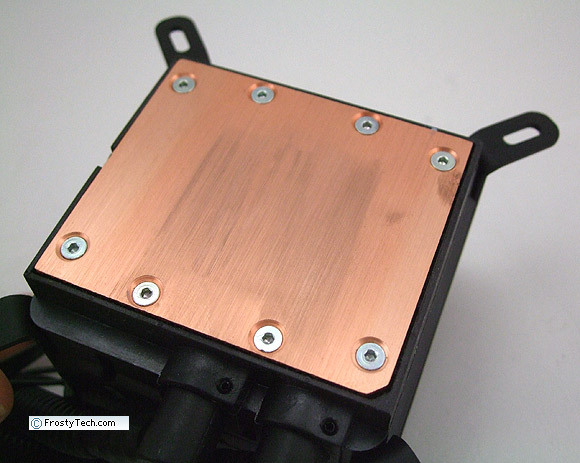 The copper base of the Corsair Hydro H100 waterblock has a sanded finish with a surface roughness of approximately ~32 microinches. The manufacturer ships it with a pre-applied patch of gray thermal compound for ease of installation (shown with/without in the above pictures). The base is slightly convex in one axis and perfectly flat in the opposite.
Next up Frostytech looks into the noise levels of this heatsink, then it's onto AMD and Intel thermal tests!