If you subscribe to the hype, Prolimatech's Megahalems heatsink is that legendary thermal solution only spoken of in hushed whispers. Thermalright can't touch it, it cools better than anything, and has basically come out of nowhere to steal the spotlight from established heat sink manufacturers seemingly unwilling to release truly great CPU coolers. Prolimatech Inc. is in fact a small two year old company based in the Sinjhuang area of Taipei. Word of mouth has propelled this upstart from under the radar to the forefront of the computer heat sink world, and today Frostytech will be testing its best and brightest!
Enter the Prolimatech Megahalems heatsink - built for Intel socket 775 and 1366 processors we'll also put it though its paces on the AMD platform. As is tradition, Frostytech won't string you along; the Prolimatech Megahalems heatsink is indeed one of the very best performing CPU coolers we've ever tested. Faced with a 150W heat load it doesn't break a sweat keeping Frostytech's synthetic Intel CPU die at just 15.0°C over ambient temperature (w/h 80CFM 120mm fan). That is very nearly a record low.
Prolimatech's Megahalems heatsink stands 160mm tall, weighs 790 grams and makes use of six closely packed 6mm diameter copper heatpipes that support thickish stamped aluminum fins. In every sense the Megahalems is a true tower-style heatsink. One or two 120mm fans can be installed, though it only ships with one set of springy wire fan brackets.
The Megahalems heatsink is compatible with Intel socket 775/1366 processors, a separate (optional) bracket kit brings AMD socket AM2/AM2+/AM3 compatibly into the fold. At the time of this review, only the Megahalems Rev.B supports Intel socket LGA1156 Core i5/i3 processors. Architecturally there isn't a significant difference between the two.
Prolimatech Megahalems Heatsink

---

heatsink specsheet
manufacturer: prolimatech
model no.: megahalems
materials: nickel plated aluminum fins, copper heatpipes, extruded aluminum base block and copper base plate.
fan mfg: not included
fan spec: not included
fan dim: 25x120x120mm
heatsink & fan dim: 160x129x98mm
weight: 790 grams
includes: multi-socket mounting hardware, thermal compound, instructions.

---

Compatible with Sockets:
AMD - AM2/AM2+/AM3 (with ARM-01 kit)
Intel - 775/1366
Est. Pricing: $60USD ($60CDN)
The Megahalems heatsink ships without a fan because most enthusiasts and overclockers prefer to pick properly endowed 120mm fans on their own. That might include a low noise Noctua 120mm model or a high performance 120mm PWM fan from SanyoDenki, the choice is yours.
For the purpose of this review Frostytech will be testing the Megahalems heatsink with an 80CFM AGA12025F12L and 50CM Mechatronics G1225S12B fan (both are 120x120x25mm vanaxial 12vDC). The former because enthusiasts like higher-airflow fans and the latter because it has long been Frostytech's 120mm test fan of choice for heatsinks that ship fanless.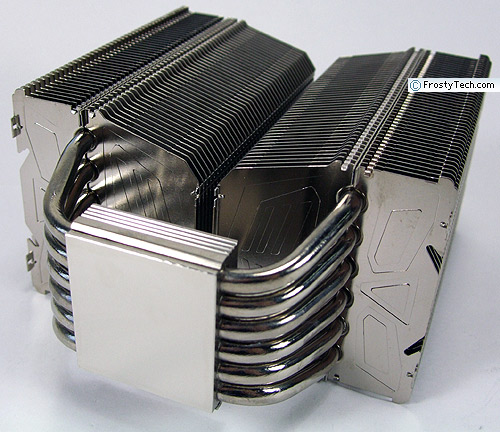 Key to the Megahalems success is the simple collection of heatpipes, copper base block and variable depth cooling fins you see above. The 6mm diameter heatpipes are packed side by side at the base, and also where they pass through the aluminum fins. The heatpipes are soldered to a conforming copper base plate that measures minimum 2mm thick, for the purposes of heat spreading uneven heat loads. The nickel plated copper base plate is machined razor smooth.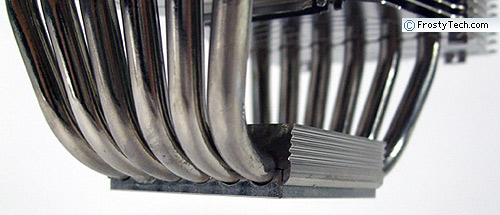 Rather than swage the 0.4mm thick aluminum fins over the heatpipes, Prolimatech have instead relied upon solder joints. The twin aluminum fin towers are kept separated by 5mm. Each 63x70x109mm tower is comprised of two sections soldered to the row of heatpipes.
Lining up the heatpipes like this reduces airflow resistance and positions the hottest part of the heatsink directly behind the highest airflow region of the fan. The center area, typically situated behind the fan motor, is not as deep as air flow in this region is generally lower.
Frostytech looks at the different options for mounting hardware next, then it's onto a 360-degree view of the Megahalems heatsink, acoustic and thermal test results.