Prolimatech's Megahalems heatsink is compatible out of the box with Intel socket 775/1366 processors, but not Intel Core i5 socket 1156 processors. Please keep in mind that Rev.B version of the Megahalems heatsink adds Intel socket 1156 compatible mounting hardware. Likewise, AMD users will need to purchase the Prolimatech ARM-01 kit if they wish to use this heatsink with an AMD processor.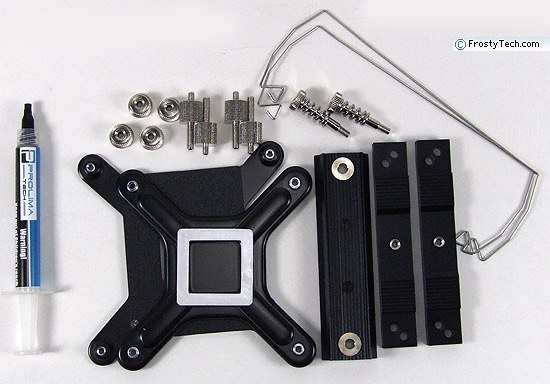 Given the weight of the Prolimatech Megahalems heatsink, the mounting hardware includes a strong rear motherboard support plate and very sturdy extruded aluminum upper mounting plates. Once the support plate is installed onto the LGA775/1366 motherboard the heatsink can be removed easily, without needing to access the back of the board.
Essentially, the two aluminum strip adaptors are screwed into the rear motherboard support plate. From that point the heatsink is installed and a single aluminum mounting plate is positioned across the base of the Megahalems heatsink in two specifically positioned locating holes. The spring-tensioned mounting screws then thread through the reinforced holes in and thread into the board-mounted aluminum strips.
Prolimatech use steel thread inserts and sleeves to ensure threads won't wear out even after repeated insertions. Overall, the Megahalems has one of the best heatsink mounting systems Frostytech has seen in years - it's enthusiast grade and rock solid.
AMD Socket AM2/AM2+/AM3 Support - ARM-01
The Prolimatech Megahalems is an Intel-only thermal solution out of the box, so Prolimatech sell a separate kit called the AMD Retention Mount Adaptor Kit for users who wish to install this heatsink on recent AMD processors. The kit is compatible with four-hole mounting points used on AMD socket AM2/AM2+/AM3 motherboards only, so unfortunately it cannot be used with older socket 939/940 CPUs from yesteryear.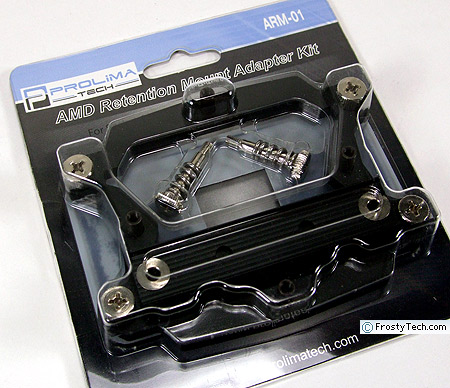 The components of the Prolimatech ARM-01 mounting kit are pictured below. This kit will set you back an additional $20 if you need it. The one nice thing about this kit is that the heatsink can be mounted in any orientation, provided of course there is sufficient clearance on the motherboard. AMD processor sockets are sometimes located in the wrong direction, so this is a nice benefit.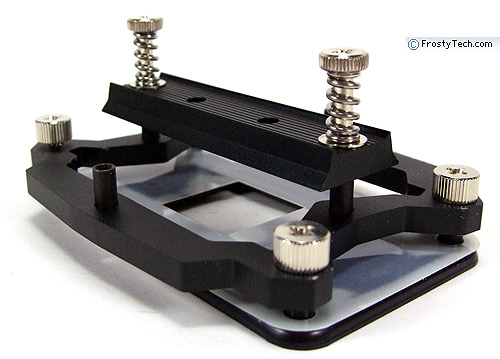 This heatsink will be tested on FrostyTech's Intel LGA775 and AMD 939/AM2 version of the Mk.II synthetic thermal temperature test platform, and compared against a several hundred reference Intel and AMD heatsinks. The whole test methodology is outlined in detail here if you'd like to know what equipment is used, and the parameters under which the tests are conducted.