Arkua 8456X-8T Pentium 4 Heatsink Review
---
There is always something good to be said of a heatsink which has been designed with lower noise levels in mind. The loud whine of fans audible from across the room are akin to the days of the polyester leasure suit. Dead, long gone, and never coming back.
The least expensive way to achieve a low noise signature is to mount an 80mm fan on a heatsink. Since the fan is larger, it only needs to spin at a low RPM to move the same amount of air as a smaller high speed fan. By rotating slower, less noise is produced and we have an equally cooled heatsink as if a smaller, faster, and louder fan were used. This is exactly what Arkua have done with the Arkua 8456X-8T heatsink.
The 8456X-8T ranks in at 46.5 dB in our acoustic tests, and even with the large 80mm fan this Arkua heatsink is hardly aiming for the performance markets. No, this is more of a stock cooler for the fiscally minded than anything else. Sure, the thermal results peg it close enough to the stock Intel m478 heatsink to make swapping the two virtually pointless, but hey, who are we to argue?
Heatsink Specsheet:

Model: 8456X-8T
HS Material: Extruded aluminum
Fan: 3000 RPM, 12V, 0.16A
Fan Dim: 25x80x80mm
FHS Dimensions: 70x83x90mm
Made by: Arkua

Sold By: www.arkua.com.tw
The fan screws into a clip system which rests on top of the heatsink. The spring clips have little tabs on their ends which lock into the motherboards HSRM and hold the cooler in place.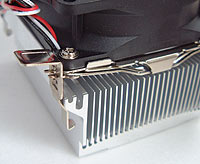 Since the extrusion is a little longer than the space inside the HSRM, the bottom has been cut out to allow some extra clearance as well.