Arkua 648N-6B Copper Core 1U Heatsink Review
---
The 1U heatsink takes many forms and not all of them are solid copper. Arkua, who have made good use of a heatsink design technique many of us attribute to Thermosonic, have recently introduced this 1U heatsink. The Arkua 648N-6B is based on a familiar extrusion, but chopped down to just 24mm in height. This isn't just a plain Jane aluminum heatsink however. To spice things up, and ensure that those PIII or Athlon processors don't catch fire, Arkua have added a sweet copper core of 19mm in diameter.
Heatsink Specsheet:

Model: 648N-6B
Fan: 4700RPM, 22CFM, 12V, 0.17A.
Fan Dim: 10x60x60mm
Heatsink Dim: 24x60x60mm
HS Material: Extruded Aluminum, Copper
Weight: 111 grams
Mfg by: Arkua


Sold By: www.arkua.com.tw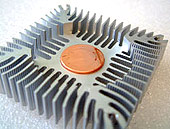 With such limited space in a 1U server (typically 28-30mm for the cooling package), a stock 60mm fan is all that will fit onto this tiny heatsink. In fact, given the slim proportions of this cooler, you'd be forgiven for thinking it may have even been intended for a videocard GPU!
he heatsink extrusion has a small recess bored out from the center, and the copper slug inserted in under high pressure. The copper stands a little proud in this picture, but the base is milled perfectly flat. It would be interesting to see what Arkua might be able to come up with for the upcoming NV30 core - perhaps an after market heatsink along the lines of this?
We'll have to wait and see if anything ever develops, but I wouldn't be too surprised to see a whole lot more after market videocard heatsinks in development.