Globalwin CDK38 Copper Heatsink Review
---
Globalwin are one of the cornerstones of the cooling industry who have always focused on practical, high-volume production heatsink designs which offer good cooling for the price. One such heatsink from this venerable cooling company is the little 60mm CDK38. The fan is a 25mm thick 60mm high RPM Delta fan so the 'little' Globalwin CDK38 packs in a big punch for a relatively small footprint. Or so we hope to see, first we have to put this little solid copper heatsink through a few sets of tests!
Heatsink Specsheet:

Model Name: CDK38
Fan Specs: 7000RPM, 38CFM, 12V, 0.39A.
Fan Dim: 26x60x60mm
Heatsink Dim: 64x60x63mm
HS Material: Copper C1100, aluminum
Weight: 405grams
Mfg by: Globalwin
Cost: $26USD


Sold By: www.globalwin.com
So where do we begin with the Globalwin CDK38? There are a few things which cause it to standout from other full copper heatsinks on the market at this moment and one of the most basic of which is its fin construction. There are folded fin assemblies like we first saw from the likes of Neng Tyi, and then there are skived fins which have gained so much attention this year, but the CDK38 doesn't fall into either category.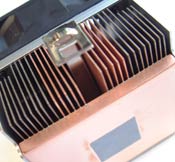 For its fins the Globalwin CDK38 uses sheets of 0.5mm thick copper which have been dip brazed/soldered to the base plate along their edges. There are no folded over joints here - it is just edge of fin to base type of contacts. The joints are really quite nice if you can look closely at them, but for our purposes it is really more pressing that they transfer heat energy efficiently, especially considering the relatively small 60mm footprint of which this heatsink has.