Vantec GSN-7015 Socket 478 Heatsink Review
---
Vantec's GSN-7015 was released a while ago to serve as a heatsink for the socket 478 Pentium 4 processor. It currently has the distinction of having one of the thickest base plates of any extruded heatsink we have seen to date. Powered by a chunky 70mm fan the GSN-7015 produces only a moderate amount of noise, much like other socket 478 heatsinks on the market.
Unlike the heatsinks used for socket A/370 processors, the coolers we have been seeing for the socket 478 processor are not plagued as much with extreme noise production. This probably has to do with the larger fans these types of heatsinks tend to use, enabling the impellers to rotate slower and still move a healthy amount of air down into the fins.
The GSN-7015 uses a very simple spring tensioned set of clips that lock into the motherboard's HSRM (HeatSink Retention Mechanism).
Heatsink Specsheet:

Model: GSN-7015
Fan: YS Tech, 5400RPM, 12V, 2.28W.
Fan Dim: 15x70x70mm
Heatsink Dim: 83x55x68mm
HS Material: Extruded Aluminum
Mfg by: Vantec
Cost: ~$30


Sold By: www.vantecusa.com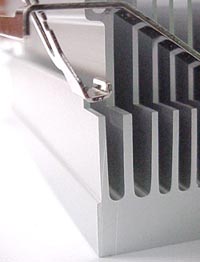 One of the things we came to notice about the GSN-7015 while reviewing it was the limitations of the extrusion process. In this case, the base of the heatsink was left raw. What that means is that the base has not been machined, sanded or otherwise altered to produce a better thermal interface. While extrusion dies are good at what they do, small imperfections that come out as scratches, or slightly wavy lines can torpedo an otherwise good heatsink with problems its designers never intended.
The heatsink we reviewed has some very faint striations on the base, which was unfinished. However, what most affected the score of this heatsink was the flatness of the base. Unlike the Athlon which has a relatively small mating area, the Pentium 4 is quite large. What then happens if there is some waviness in the base is that only the rises make contact with the heatspreader, and the pits remain high and dry as it were. While we made sure to drop on some extra thermal compound to take up any gaps that may have existed it was easy to see that about 1/5th of the interface die was not in good physical contact with the base of this particular GSN-7015.
Two relatively high wavy-points on the base section kept our interface die from making really good contact, and so the results for this cooler will reflect that. This is easily fixable by simply lapping the base of the GSN-7015 if you so desire.
So what's the bottom line here? Use a good quantity of thermal compound on extruded heatsinks, and if they haven't been machined, and you feel like putting a little extra effort into your computer, lap the base for a few minutes and even things up!