The 15mm thick 70mm fan with its 11 blades is considerably quieter than we had originally anticipated it would be. In most systems, the heatsink would probably drowned in with the powersupply fans and not be any problem noise wise. To hear this heatsink, click on the pair of headphones pictured below.
FrostyTech Acoustic Sampling Chamber (~10 sec)
Spectral view.

Standard Waveform view.
(Listen to an MP3 recording of this heatsink by clicking on the headphones)
Synthetic Temperature Test Results: *Ranked according to 100W interface die test results.
FrostyTech Synthetic Temperature Test Platform Results
Mfg.
Model
Ambient Temp.
27mm large copper block
27mm large copper block
Thermal pad
No. Fans
Fan Noise
Clip force
50W
100W
1
AVC
117140
22.6
37.8
50.4
none
1
med
med
2
Arkua
8568
22.4
37.8
51.7
none
1
med
med
3
Vantec
GSN-7025
22.5
41.7
58.5
none
1
med
med
4
Chauh Choung
DTA-478
22.4
42.1
59.0
carbon
1
low
med
5
Intel
Socket 478
22.4
41.8
59.8
carbon
1
low
med
6
Dynatron
DC1206BM-S
22.4
43.2
62.0
none
1
med
med
7
AVC
117160
22.4
42.7
62.2
white pad
1
med
med
8
Vantec
GSN-7015
22.4
47.5
69.0
none
1
loud
stiff
50W
100W
For the reasons we had mentioned earlier this particular GSN-7015 didn't fair to well against the other reference coolers, and specifically against the default standard, the Intel Socket 478 cooler. Had the base been flatter, the GSN-7015 probably would have come in quite close to the Dynatron and AVC coolers. Still, this would have left the heatsink below the default standard, so unfortunately there wouldn't be much reason to switch to this heatsink unless you were intent on dropping in a more powerful fan - something that isn't easily done with the Intel socket 478 heatsink.
Please note, that since socket 478 heatsinks are only capable of mounting to a motherboard with a HSRM, we will only be testing them on the large copper interface die.
Rise Above Ambient Temp. (c)
Mfg.
Model
27mm large copper block
27mm large copper block

50W

100W

1
AVC
117140
15.2
27.8
2
Arkua
8568
15.4
29.3
3
Vantec
GSN-7025
19.2
36.0
4
chauh Choung
DTA-478
19.7
36.6
5
Intel
Socket 478
19.4
37.4
6
Dynatron
DC1206BM-S
20.8
39.6
7
AVC
117160
20.3
39.8
8
Vantec
GSN-7105
25.1
46.6

50W

100W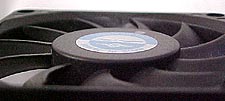 With a temperature 7 degrees behind that of the AVC 117160, the GSN-7015 doesn't put up the best possible fight, and not one you might have immediately anticipated.
We've said this time and time again, base finish is very important, and ideally it would be great to see manufacturers machine finish every heatsink but this isn't always possible. At the very least it would have been good to see the base of the GSN-7015 sanded to remove any slightly wavy features left from the extrusion die.
This is all moot for the most point, as the GSN-7015 has been surplanted by the newer GSN-7025. Still, a few minutes of lapping would be highly recommended if you happen to own this cooler.