BitsPower NP60D Skive Heatsink Review
---
Bitspower have firmly planted themselves as part of the growing trend of manufacturers specializing in skive heatsinks, heck even Thermaltake is releasing Skive models these days.
Skive heatsinks are neither extruded nor cast but rather cut from a single block of material. The benefits are that the fins and the base section are constructed from the same material, and there are no joints to obstruct the efficient flow of heat energy. The technique is difficult to mass produce, and although Dynatron have recently made quite a name for themselves in this regard, there are still relatively few manufacturers in the field when compared to extrusions.
In any event, Bitspower have a range of skive heatsinks that look they've been bent out of whack after being dropped. This isn't the case of course, but given the angled appearance, one can't help but draw immediate conclusions. The real reason revolves around the shape of each fin, and the limitation of the machinery used to make the NP60D.
Heatsink Specsheet:

Model: NP60D
Fan: SuperRed, 12V, 0.28A
Fan Dim: 20x60x60mm
Heatsink Dim: 52x68x62mm
HS Material: Skived Aluminum
Mfg by: Bits Power
Cost: ~$25


Sold By: Bits Power
Slicing the fins from the base: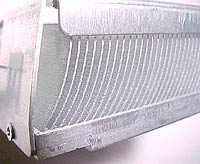 Where you average no-name extruded heatsink uses vertical fins, the NP60D uses curved ones. Aside from limitations on the manufacturing level, the curved fins could offer the potential for improved performance as the air from the fan has to travel further.
Each of the individual fins has a smooth surface and a rough surface, but this is more of a by product of the manufacturing process than a designed trait.
Given that extruded fins are often textured with a scalloped effect you would almost expect the rough texture of the fin to improve the overall heatsink performance. In all honesty this may be by only a degree or two, if at all.