Spire 5E055B1H3R Copper Heatsink Review
---
Suffering from permanent hearing damage because of your heatsink cooler? Don't worry you are not alone, in the quest to get the biggest and fasted heatsinks on the planet for the best and fastest cooling solution, noise is often overlooked. While this copper cooler from Spire is much quieter than any of the heatsinks you have been reading about lately, it cannot offer the same level of performance.
Still the question of which is better, high noise and high performance, or low noise and moderate performance is a personal one. In case you're willing to take the plunge into the latter, the Spire 5E055B1H3R may be for you.
Heatsink Specsheet:

Model: 5E055B1H3R
Fan: noname 12V fan.
Fan Dim: 15x60x60mm
Heatsink Dim: 40x61x62mm
HS Material: Copper
Mfg by: Spire / Fanner Tech
Cost: ~$28


Sold By: Spire
Construction Notes: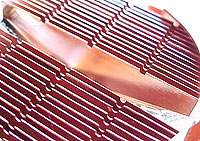 We have seen many heatsinks come across our test bench that used two-part constructions. For the manufacturers, it is a lot simpler and cheaper to take two parts of sheet, or plate copper and solder or braze them together to for a completed heatsink than it is to cast, forge or mill.
Spire use this process with their Model 5E (5E055B1H3R) with pretty good results by the looks of it. Though soldered (if you look closely along the edges of the fins you can see areas not covered by copper that still have their lead colour), the fins are at least making good contact with the base.
Most importantly as far as we are concerned is that the fins are not glued down to the base. Time and time again we have seen this process turn what might have otherwise been a good heatsink into just another low-end OEM cooler.