Rise Above Ambient Temp. (c)
Mfg.
Model
27mm large copper block
15mm small copper block
27mm large copper block
15mm small copper block
50W
50W
100W
100W
1
Thermal Integration
TI-V77L
12.6
17.9
31.0
37.1
2
Thermal Integration
TI-S86-25
16.4
21.5
31.4
43.0
3
Vantec
CCK-6027D
18.0
22.2
37.5
46.0
4
OCZ
Dominator
11.2
24.4
25.9
47.7
5
Akasa
Silver Mountain
19.6
24.9
38.4
49.5
6
Vantec
CCK-6035D-Retail
17.7
26.3
36.7
51.4
7
Swiftech
MCX370-0A
19.7
23.8
38.0
53.3
8
Spire
5E055B1H3R
26.3
30.0
55.3
57.6
9
Thermaltake
Volcano 6cu+
13.8
28.8
32.1
57.9
10
Thermalright
CB-6L
25.7
33.1
49.2
68.1
11
Fortis
A92
18.9
39.1
41.1
71.1
50W
50W
100W
100W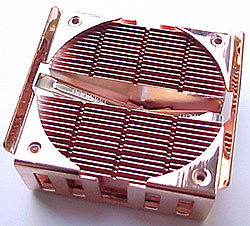 Notice how out of whack the results are for the large interface die are compared to the other reference coolers? The Spire Model 5E just can't handle the larger die at elevated temperatures, and appears to be overwhelmed.
On the smaller interface die the results are at least in line with the coolers immediately adjacent to the Model 5E. Since the large core processors are not in the category recommended for this heatsink we can ignore those results completely, but it is interesting to see the degree of difference which can result because of an increase in interface size.
The Spire Model 5E showcases pretty average performance for a heatsink, largely due to its rather tiny 60mm fan. On the positive side, of the OEM class heatsinks that the Spire has found itself next to, it is one of the smallest, and quietest. Thus if you are looking for a decent OEM cooler with low noise signatures and having a height of only 40mm the Model 5E would be well worth considering. For performance applications it just doesn't have the necessary qualities.