TS Heatronics SCR325-2F Radiator Heatsink Review
---
There are very few heatsinks that impress us with the type of cooling technology they use. The TS Heatronics CPU Radiator (SCR325-2F) features Heatlane Technology which is also known as Akachi-pipe (after the inventor) or "meandering capillary tube heat pipe" in its construction. The Akachi-pipe is similar in function to that of a standard heat pipe but significantly different in construction and performance characteristics.
When the CPU Radiator made its' initial splash onto the North American scene many people experienced problems installing it due to the rather unique clasp system it uses, and frankly the lack of English instructions didn't help the situation. While we tend to agree that the internal spring on the unit is a bit on the stiff side, following the instructions should make for a painless installation. TS Heatronics has added some English instructions to their site here to help out.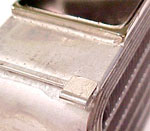 Technically speaking, the CPU Radiator is not yet ready for our side of the pond for a couple of reasons. Aside from the minor point of how to install the unit without inadvertently damaging your processor, the heatsink contains a working fluid (HFC-134a) that can be hazardous if the heatsink misused.
The recently released English version of the manual says it all: "The CPU Radiator contains a high-pressure working fluid and is designed for use between -60 and 95 degrees Celsius maximum." The manual goes on to say a few things about proper disposal, and two points that I'm going to reiterate here for those of you who might already have one.
"The Heatlane Radiator unit of this kit contains a working fluid. If the temperature exceeds the specified range, the coolant-filled unit may rupture and discharge the coolant. The extreme temperature of this discharge coolant may cause burns or frostbite." "Exposing your eyes and/or face to the discharge working fluid could result in loss of eyesight or serious burns."
Heatsink Specsheet:

Model: SCR325-2F
Fan: (2X) Mineba, 4600RPM, 12V, 0.21A
Fan Dim: 15x60x60mm
Heatsink Dim: 90x86x76mm
HS Material: Aluminum, ABS, Nylon66, Nickel-plated Copper
Working Fluid: HFC-134a
Weight: 350 grams
Mfg by: TS Heatronics
Est Cost: ~$90 USD


Sold By: TS Heatronics
I know many of you like to tweak or mod your heatsinks to pull extra duty, but with the CPU Radiator it is very important not to puncture the unit! At the moment it is only intended for use on socket 370 or socket A processors, a socket 478 adapter is in the works however.
Anyhow, up next we explain how a bit about how this 'Akachi pipe' works to keep your processor cool...