Swiftech MCX462 Heatsink Review
---
Swiftech products have always been the finest examples of the heatsink makers' art. The MCX462 is no less than a thermal masterpiece and an example of the fine engineering and attention to detail Gabe puts into his work.
Naturally the MCX462 comes with a price that reflects this. Retailing for about $72 in the socket 462 configuration, it's obvious that this is not a heatsink for just anyone. Rather, this is a cooling solution built to satisfy the needs of a breed of performance user who recognizes that proper cooling of an overclocked system is what can most influence megahertz.
If you've seen reviews of Swiftech's MC462A here before you'll immediately notice the new style of pins. These 'threaded' aluminum pins first made their debut on the all aluminum MCX370-0A. When they were first introduced the pins were a lot thicker. Time and testing have narrowed the pins and their spacing down to current levels - thus more pins are crammed into the heatsink yielding improved levels of surface area.
Heatsink Specsheet:

Model: MCX462
Fan: Delta FFB0812SHE, 4900RPM, 12V, 0.87A, twin ball bearing.
Fan Dim: 38x80x80mm
Heatsink Dim: 77x77x77mm
HS Material: C110 Copper, 6063 Aluminum, Stainless Steel
Weight: 760 grams
371 textured aluminum pins
Base machined to 0.001" flatness, surface finish 8.
Mfg by: Swiftech
Cost: ~$72


Sold By: www.swiftnets.com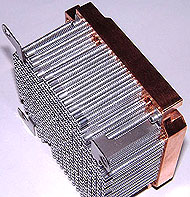 Depending on you own personal requirements the MCX462 could be acquire bare-bones as it were for $55, but you'd have to come up with you own fan. Different bundles of screws, adapters, and makeshift rheostats will add a few bucks here or there. Incidentally, Zalman just released a really sweet little rheostat called the FanMate 1, but since it's limited to handling 6W of power, it wouldn't be such a great idea to use it with the 80mm Delta fan on the MCX462 which draws over 10W.
Our test unit came with a blister pack of AOS 52029KY non-silicon HTC thermal compound, a rheostat, the socket 478 adapter, some miscellaneous packs of screws and two sheets of instructions. Keep in mind that the retail version treats the rheostat and socket 478 adapter as optional add-ons.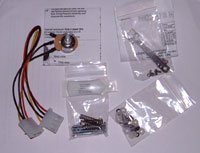 When you move to heatsinks that weigh as much as the MCX462 (730grams) do there is only one viable mounting option, and that is bolting it down directly to the PCB. To do this properly you first need to rip out your motherboard and attach a set of standoffs (for both socket 462 & 478). If you ever need to pull out the processor the heatsink simply unscrews from these standoffs so the process isn't too much of an ordeal.
The instructions tell you how to install the nylon washers, hex nuts or fiber washers depending on the type and size of holes the motherboard manufacture has used around the socket. The diagrams are clearly outlined and should be followed closely or you may burn out your T-Bird thanks to an improperly installed heatsink that isn't actually touching the core.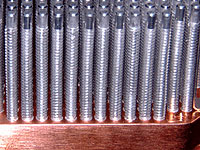 With the mounting gear installed on the motherboard and the chip in-socket, thermal compound can be applied and the MCX462 carefully dropped on. Next a series of four spring tensioned screws are threaded through the heatsink itself and it is these fasteners that keep the whole assembly in place. Lastly, the fan is screwed back onto the heatsink and the power connections are made.
All in all, it's a more complicated assembly procedure and if you don't take a few moments to look over the instructions you could kill your T-Bird through a bad installation. I've heard from at least one person who did this, so I'm not mentioning this for kicks. The setup procedure for the socket 478 varient is a wee bit longer, but along the same lines.