Arkua 6258 Copper-Core Heatsink Review
---
The larger 70mm Arkua coolers have garnered a lot of attention from the cooling community, but not all motherboards will accept something quite so large. Never fear, the Arkua 6258 is here! Measuring 60mm x 60mm the 6258 closely resembles the trend-setting Thermoengine. However with a fin section only 25mm high and a solid copper core they are very different. Powered by a 60mm Innovative fan rotating at about 6800 RPM, the relatively little 6258 is a bulldog.
A special plastic fan shroud keeps the fan 7mm above the top of the heatsink for improved airflow between the fins. An improved clip makes installing the 6258 a straight-forward affair, but since the copper core is centered within the body of the heatsink, and not the area of the chip, the core is not perfectly centered on the 29mm diameter copper slug.
Heatsink Specsheet:

Model: 6258
Fan: Innovative, 6800RPM, 12V, 0.39A, ball bearing.
Fan Dim: 25x60x60mm
Heatsink Dim: 57x64x64mm
HS Material: Aluminum, Copper
Mfg by: Arkua
Cost: ~$30


Sold By: Arkua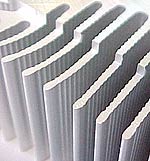 Like almost every Arkua heatsink, the main secret of their ability to cool is a central copper core. The theory behind this is that the more thermally conductive 29mm diameter copper slug will transfer the heat to the surrounding aluminum for dispersal to the environment. The base is machined perfectly smooth, but not polished in any way.
The orientation of the fan is also a very important factor, as is the scaling on the heatsinks fins. The rippled texture creates turbulence which aids in the removal of heat energy.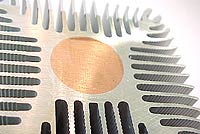 The entire design of the Arkua line of heatsinks should remind you of the Thermoengine heatsinks we all fell over a few months back, and indeed according to the Arkua website, their heatsinks are based on licensed technology from Thermosonic.