Titan TTC-MS2AB Heatsink Review
---
Titan heatsinks seemed to first make themselves known to the cooling world near the end of 2000. Their heatsinks stood out from the mass of Orbs being offered at the time because they featured the orb fin design on its' side. That design attracted a lot of interest in the heatsinks, but the reviews never quite caught up to the hype. Apparently the double fans they had used in the original heatsinks were either too weak, or essentially cancelled each others airflow out.
With the TTC-MS2AB, Titan have made a few changes to the overall design, but the core extrusion remains essentially the same. With this heatsink only one fan is used to move air over the body of the heatsink. The single fan should produce some interesting performance characteristics.
Designed for:

AMD Athlon, Duron, K6-2. Intel FC-PGA, PGA. VIA Cyrix III.

Model: Titan TTC-MS2AB
Fan Dim: 25x60x60mm, 12V, 0.19A, 4000RPM, 22CFM, 28dBa
FHS Dimensions: 70x69x56mm
Material: extruded aluminum, gold anodized.
Comes with: 1cc silver paste, case badge
Made & Sold by: Titan
The finer details:
The Titan also comes with one other pleasant surprise, a small syringe of silver grease (1.5 g). To keep our tests consistent, we did not use the silver paste included with the TTC-MS2AB in our tests however.
The base of the heatsink is finished somewhat roughly, but rather than keeping it one solid piece, Titan have cut (10) 1.5mm x 21mm slits from the base. It is difficult to tell for sure the exact impact that these slits have on the overall performance of the heatsink.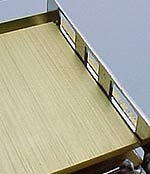 We have a few concerns with the clip on the TTC-MS2AB. While it does use the full 3-notch design to help ensure a flat mounting procedure on Socket A processors, the tension is tighter then what we would have liked. The clip travels about 3mm down and was very difficult to attach by hand in our tests. A small notch is formed from the clip to accept a flat-head screwdriver, which really is a necessity for mounting this heatsink.