Blizzard S370 Copper Heatsink Review
---
Like its' brother the S370-L, the Blizzard S370 sports a set of thick copper fins, and a solid copper construction. Armed with a much more powerful Sanyo Denki fan this copper heatsink promises some very sweet performance characteristics.
There are a couple of points which make this model stand out from the S370-L we looked at previously. First off, the S370 is not angled in the manner the other Blizzard was, but rather the fan sits in a pure impingement orientation. While this is a relatively heavy copper heatsink, it is not nearly in the same league as the MC462A Rev1.
As always, the question we try to answer is how well this heatsink stacks up against our set of reference coolers. So let's begin.
Designed for:

AMD Athlon, Duron, K6-2. Intel FC-PGA, PGA. VIA Cyrix III.

Model: Blizzard S370
Sanyo Denki "Petit Ace 25" 60mm fan
Fan Dim: 25x60x60mm, 12V, 0.17A
FHS Dimensions: 59x54x62mm
Material: C110 Copper
Made & Sold by: Blizzard
Cost: $58USD
The first thing we noticed about the S370 is how it was made. Each of the fins has been stamped out from a 1.5mm thick sheet of copper. The 16 fins are then matched up with grooves cut into the ~3mm thick base. The fins and the base are joined into one solid mass by soldering the fins to the base. A few special clips bring the tips of the fins together so that the fan can be screwed into place.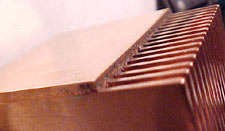 Each of the fins is firmly soldered into the base of the Blizzard.
It is always important to have two things that can be said about the finish of a base. First, that the base is flat, and second, that the base is smooth. Having one without the other is better than neither, but the true test of a good heatsink is having both. In the case of the Blizzard S370, the base is very smooth, but not perfectly flat. If you notice the very slightly wavy line at the top of the image below, that will give you an idea as to the level of flatness on the S370.
| | |
| --- | --- |
| Note the slight waviness in the reflection. | |