Globalwin CAK38 Copper Heatsink
---
Right now the Globalwin CAK38 is one of the top-tier copper socket A coolers available. It weighs in at 450g and comes with an almost unbeatable 6800 RPM Delta 60mm fan. But wait, there are lots of sold copper coolers available that can boast the similar stats, what makes the CAK38 any different, or any better?
Sure it comes with a high-speed 60mm fan, but any heatsink manufacturer can add one of those to boost performance. What really makes the CAK38 stand out from the rest is the one piece copper fin design. Looking at the fins and the base it's obvious that the entire heatsink portion has been cut from a solid block of copper. So far, no other heatsink we've looked at can boast that feature.
Designed for:

AMD Athlon, Duron. Intel FC-PGA, PGA. VIA Cyrix III.

Globalwin CAK38 Solid Copper Heatsink

Model: CAK38
Delta 38CFM, 60mm fan, 42dBa, fan guard
Fan Dim: 25x60x60mm
FHS Dimensions: 72x61x60mm
Base/fins: C110 Copper
HS Weight: 450 grams
Brushed finish base
Made & Sold by: Globalwin
Cost: ~$40USD
It's those same copper fins that undoubtedly prove to be the roughest points on the entire heatsink. The cutting process used to carve the 23 fins from 29mm of solid copper is more than evident. In fact the quality and finish of the CAK3's fins is downright poor.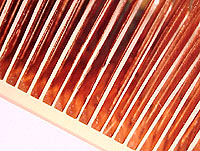 Fin spacing remains consistent at about 2mm (the width of the cutting blade). Fin thickness however, varies from 1.25mm to 0.75mm thick for the most part, with some fins going down to 0.20mm thickness.
To say fin thickness is inconsistent would be a serious understatement. Tooth marks from the saw blade are visible on most of the fins.