Thermaltake Blue Orb Chipset Cooler Review
---
Cooling products have been the bread and butter for so many hardware review websites, this one is no exception. New RAM, new CPU's and such are very interesting, however, the most "exciting" and interesting products usually revolve around overclocking, that means cooling products are reviewed the most extensively.
A relatively new product in the world of PC cooling has arrived, Thermaltake's Blue Orb is a new BGA chipset (read: northbridge or video chipset) cooler. Why would anyone want to overclock their video card's chip?
Well it's the same reason why people overclock their CPU's. Everyone wants the maximum amount of performance that their hardware can provide for them. If overclocking gives you some added value (performance) to your video card, then surely a new product that promises to cool down your Ge Force2 is a must have!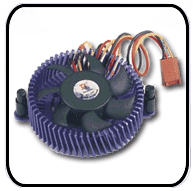 $13.95 USD / $21 CDN
Application

Chipset cooler Ge Force 2,3DFX

Dimensions

55mm diameter X 20mm tall

Clip Type

Push Pin clip included for easy installation

Fan Size

43mm diameter x 15 mm height. 3-wire fan with tachometer

Rated Voltage (V)

12 volt

Noise Level(dBA)

26 db

Rated Speed(RPM)

4600 RPM

Heat Sink Material

Aluminum 6030

Thermal Resistance

Theta ca=0.47degC/w

Special Features

Radial Fin design to increase heat dissipation
Highest performance for a active heat sink