Thermaltake doesn't include much more than the bare necessities with the Blue ORB. This includes the Blue Orb BGA cooler, 1 packet of thermal paste, 2 pushpins, and thermal tape for video cards that don't have the right holes for the mounting clips. There are quite of a few video cards with this problem, and some motherboard also lack these ever-so-important mounting holes around their BGA chipsets. Using thermal goo is always more advisable than using thermal tape... but if that isn't possible then their ain't much you can really do. And no, Epoxy is not a good idea - IMHO anyway.
Installation:
Installing new chipset coolers can sometimes be a daunting task. However I found the installation of the Blue Orb on my Asus V7700 to be quite simple. I first pinched the clips from the backside of the video card to remove the factory heat sink and fan unit. I unplugged the unit from the video card as well. The surface of the GPU on the Ge Force2 was cleaned off with a cloth and a small amount of rubbing alcohol. I used the packet of thermal paste that came with the Blue Orb, and applied a thin layer of thermal paste to the GPU as well as the base of the Blue Orb.
Unfortunately, because of the Blue Orb's height you will lose the first PCI slot. The cooler sits 20 mm above the GPU and blocks off the first PCI slot on most motherboards. However, on the test motherboard we used, the Abit KT7 RAID, is blessed with an abundance (6) of PCI slot s.
One of the other irksome features of the Blue Orb is the length of the 3 pin speed monitor power cable. Depending on your motherboard it might be a little short. However the Abit KT7 RAID that I used has a 3 pin power connector VERY close to the AGP slot, and the cable was able to reach quite easily.
On a more positive note, the Asus V7700 that I tested this cooler on, has the proper mounting holes, therefore I was able to use the pushpins to mount the Blue Orb. I try and avoid thermal tape whenever I can.
Here's what the cooler should look like when mounted properly on the video card: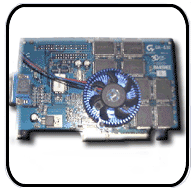 (Yes I know that's not an Asus V7700, but I was not able to locate a digital camera in time to take the snap shots)
As you can see, the Blue Orb has enough surface area to adequately cover the Ge Force2 GPU.