The FrostyTech ACPSink
---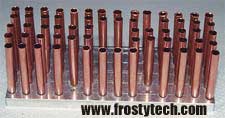 The Frosty ACPSink is a one of a kind Athlon heatsink. It's made from an aluminum plate and sixty-odd sections of imbedded copper pipe. Hence the 'ACP' acronym, which stands for 'Aluminum-Copper-Pipe'.
Sound intriguing yet?
Preface:
The idea of using copper pipes in a heatsink came about way back in march while rummaging around for supplies in a big metal's supply store. The store had a large assortment of raw copper and aluminum shapes, and I picked up about 20 pounds of supplies in a total. Among the hefty lot, were several thin copper tubes. What to do with them? Well, I decided to try imbedding the hollow copper pipes in a small piece of aluminum plate I really couldn't do much else with and the idea went on from there.
The basic premise was to try and coax some small amount of convection from within the heatsink to aid its cooling ability. As opposed to just blowing air over the surface in conventional designs. I didn't really expect to gain any super cooling advantages just because the tubes were copper, but rather from the entire configuration itself. More on that in a moment though.
Why copper and aluminum?
Traditionally, when we see copper and aluminum incorporated into one heatsink design, the goal is to have the copper portion in direct contact with the hottest region - such as the CPU core. Because of copper's conductive properties this configuration allows the heatsink to operate more efficiently.
Essentially, as heat is transferred from the processor's core, the copper conducts it towards the aluminum heatsink component. Now, instead of the heat transferring off of 10 square millimeters of silicon, it is transferring to the aluminum region from 30 or 40 square millimeters. Thus, better cooling is enabled because more heat energy is being transferred over a wider region. Enough of the basic theory for the moment, and on to the construction!
Construction:
The first step in our construction of the Frosty ACPSink was to assemble the materials. Those materials consisted of 62 small 50mm sections of 3/16" diameter copper pipe, and one flat (milled) piece of T6-6061 aluminum.