Today we have the pleasure of testing out the Cryorig H7 air cooled heatsink.
The Cryorig H7 is a mid-tower cooler which stands 145mm tall and comes equipped with a single 120mm PWM fan. The H7 is built around three 6mm diameter nickel plated heatpipes that are swaged into a 100mm tall array of raw aluminum cooling fins. The fins feature a square-tooth pattern pressed into the leading edge which creates a sort of flattened hexagon face to the cooler, likely to help reduce issues with back pressure. The supplied 11-blade fan operates at 1600-330RPM and moves up to 49CFM at an air pressure of 1.65mmH2O according to manufacturer specs. For those who prefer dead quiet operation, Cryorig do supply a second set of wire fan mounts so a second fan can be installed onto the rear of the heatsink (second fan not included).
Rounding out the specs for the H7 heatsink, we see that it occupies a relatively boxy footprint of 145x120mm and weighs 711 grams. Of note, the heatsink's mounting base is positioned asymmetrically (off to one side) to improve RAM clearance on motherboards where the CPU socket is surrounded by memory DIMMs. Nice, that. The three heatpipes are soldered to a 2-7mm thick nickel plated copper base plate for good thermal conduction, although it's oddly a little bit narrower at 35mm wide than the norm.
Cryorig's H7 heatsink retails for about $52USD/CDN and is compatible with AMD socket AM2/AM3/AM4/FM1/FM2 CPUs, but only Intel LGA115x processors.
Cryorig H7 Heatsink

---

heatsink specsheet
manufacturer: cryorig
model no.: h7
materials: aluminum fins, nickel plated copper heatpipes, aluminum base cap, nickel plated copper base plate
fan mfg: cryorig qf120
fan spec: 1600-330rpm, 12v, 0.16a
fan airflow: 49cfm
fan air pressure: 1.65 mmh2o
fan dim: 25x120x120mm
heatsink & fan dim: 145x120x98mm
weight: 711 grams
includes: multi-socket socket mounting hardware, thermal compound, instructions.

---

Compatible with Sockets:
AMD - FM2/FM1/AM2/AM3/AM4
Intel - LGA115x
Pricing: $52USD ($60CDN)
Assymmetric for memory clearance
The Cryorig H7 heatsink has it's base positioned off to one side instead of being centered under the aluminum cooling fin tower. In real world terms, this means the base is centered below the entire heatsink , including the fan. The reason for this design choice is motherboard memory slot clearance. With a 25mm thick fan installed, the width of the heatsink (front to back) at the typical hight of memory DIMMs is 97mm, meaning the heatsink will easily fit between memory slots flanking a CPU socket.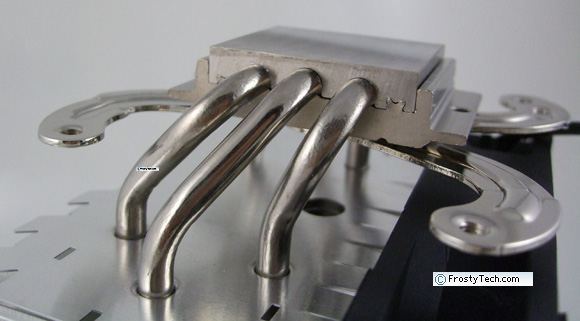 The fan supplied with Cryorig's H7 heatsink incorporates small rubber covers at each of its eight corners. No matter which way it's mounted, there's vibration absorbing material in direct contact with the metal fins. If you've ever suffered the intermittent hum of a loose computer part - looking at you DELL! - you'll know this is a small, but important touch!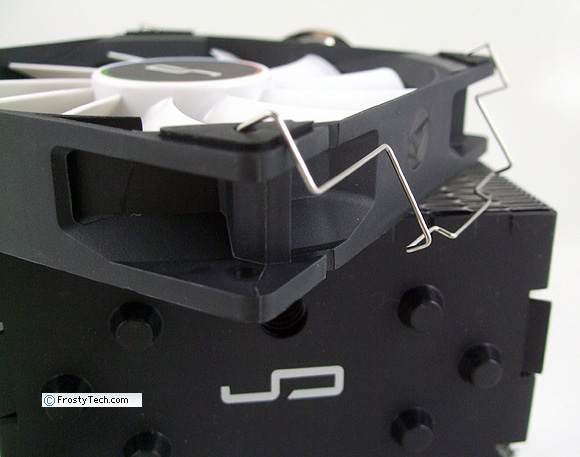 As mentioned earlier, the square-tooth profile of the aluminum fins leading edge gives the heatsink a sort of flattened honey-comb appearance.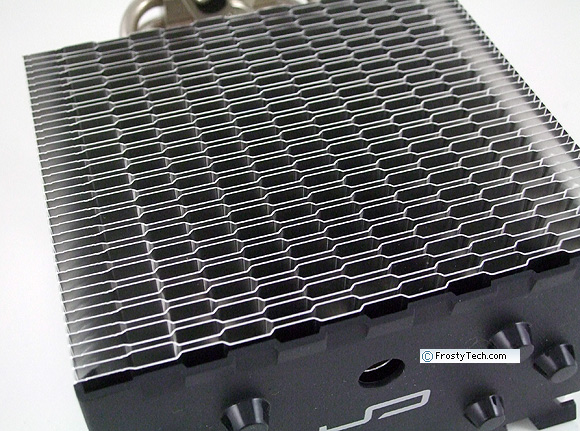 Round back, the trailing edges of the fins have sort of rhombic cut out, which is purely decorative since the fins aren't bent in the Z-axis.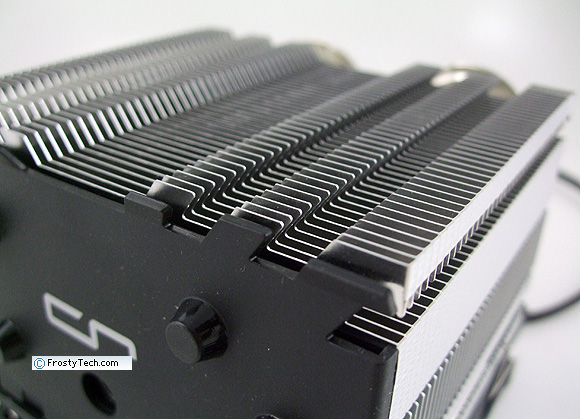 The copper heatspreader is a good 2-7mm thick to distribute heat from multi-core processors evenly to all three heatpipes. Curiously though, the base plate is only 35mm wide. This dimension is fine for most Intel CPUs, but a little narrow for AMD processors.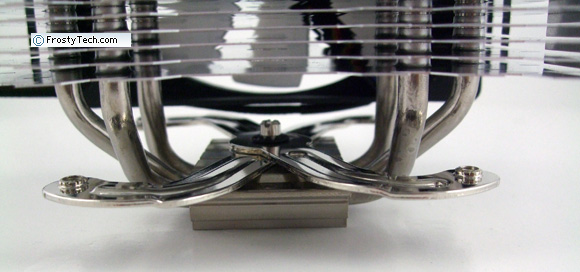 Heatsink Mounting Hardware
The Cryorig H7 heatsink installs onto Intel socket LGA115x and AMD socket AM2/AM3/AM4/FM1/FM2 CPUs. The heatsink ships with a plastic rear motherboard support bracket, metal mounting brackets, associated hardware, four wire fan clips and a small tube of grey Cryorig CP7 thermal compound. A shrink-wrapped product registration card is also included, for some reason.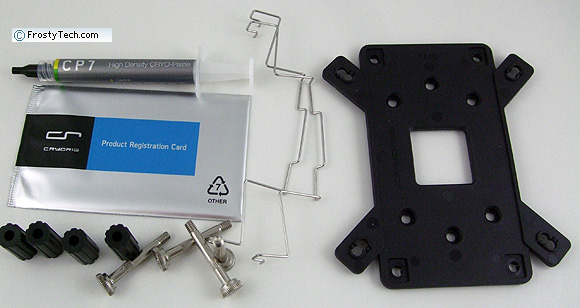 FrostyTech's Test Methodologies are outlined in detail here if you care to know what equipment is used, and the parameters under which the tests are conducted. Now let's move forward and take a closer look at this heatsink, its acoustic characteristics, and of course its performance in the thermal tests!