DeepCool's Gamer Storm Lucifer K2 heatsink is a revised version of the original Gamer Storm Lucifer heatsink, which Frostytech tested about a year back. The Lucifer K2 heatsink only differs in that it's not nickel plated and ships with a slim profile (20mm thick)120mm fan which makes the heatsink a little more accommodating on confined motherboards. As with the previous incarnation, the Lucifer K2 heatsink very much resembles a passive thermal solution at first glance, owing to its boxy footprint and aluminum fins being so widely spaced apart. The heatsink isn't a passive cooler though, a single 120x20mm fan is very much required to keep the Lucifer from overheating when faced with a toasty CPU (or in our case, synthetic CPU die). The 120x20mm PWM fan operates at 1800-600RPM and moves upwards of 62CFM according to manufacturer specs. Extra wire fan clips are supplied for attaching a second, rear fan.
At the business end of DeepCool's Gamer Storm Lucifer K2 heatsink we find a chunky copper heatspreader, albeit with a bit of a crown in one axis. The six, 6mm diameter copper heatpipes soldered to the heatspreader, rise up through a 105mm tall aluminum cooling fin stack, the fins being swaged in place and not soldered. The heatpipes are spaced ~75mm apart and line up with higher airflow regions behind the fan.
DeepCool Gamer Storm Lucifer K2 Heatsink

---

heatsink specsheet
manufacturer: deepcool / gamer storm
model no.: lucifer k2 (dpgs-mch6-lck2)
materials: aluminum fins, copper heatpipes and copper base plate
fan mfg: deepcool
fan spec: 1800-600rpm, 12v, 0.13a
fan dim: 20x120x120mm
heatsink & fan dim: 163x140x131mm
weight: 1047 grams
includes: multi-socket mounting hardware, thermal compound, instructions

---

Compatible with Sockets:
AMD: AM2/AM3/FM1/FM2
Intel: LGA2011/1366/115x/775
Est. Pricing: $30USD ($45CDN)
DeepCool's Gamer Storm Lucifer K2 heatsink stands 163mm tall and has a boxy footprint measuring 140x131mm. The mounting base is positioned slightly off center within this area, so minimum clearance on the fan side is only ~53mm from the center of the CPU out. The aluminum fins stretch out ~75mm at the rear of the heatsink, which may cause issues on some motherboards. To the sides, the fins are ~70mm from the center of the CPU.
The DeepCool Gamer Storm Lucifer K2 heatsink weighs in at 1047grams and is compatible with Intel socket LGA2011/1366/1115x/775 processors and AMD socket FM1/FM2/AM2/AM3 CPUs. The Lucifer K2 heatsink retails for around $45 CDN at the usual computer stores, and Newegg.
The fan incorporates a vibration dampening pad at each corner which makes direct contact with the metal fins of the Lucifer K2 heatsink.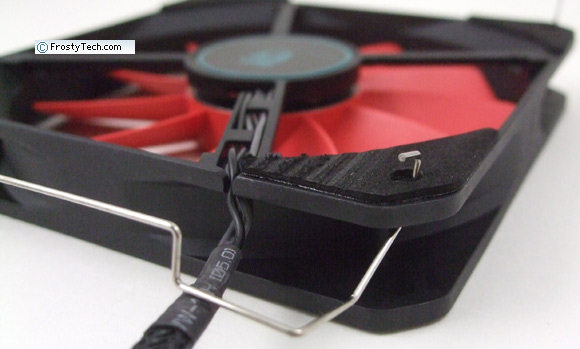 The other interesting design trait found on the Lucifer K2 heatsink is that each aluminum fin is embossed with a series of diamonds. This texture theoretically helps to break up laminar air flow, by which the boundary layer is decreased and metal-to-air heat conduction improved.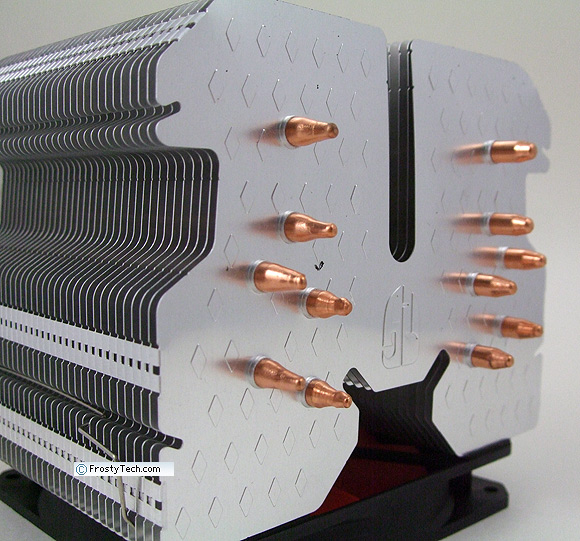 In addition to texturing the raw aluminum fins, DeepCool employ a series of cut outs in the area of the fin which roughly correspond to known "dead spots" in airflow or that serve to act as a plenum.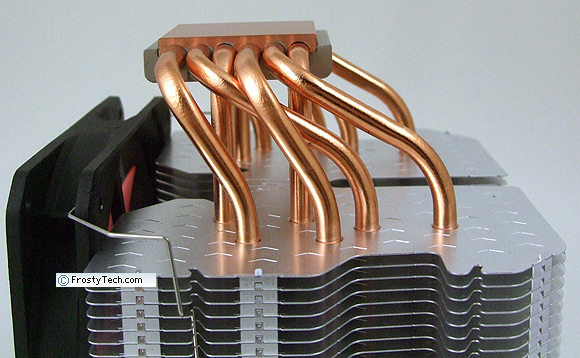 DeepCool's Lucifer K2 heatsink incorporates six 6mm diameter copper heatpipes, each sparingly soldered to the copper base plate.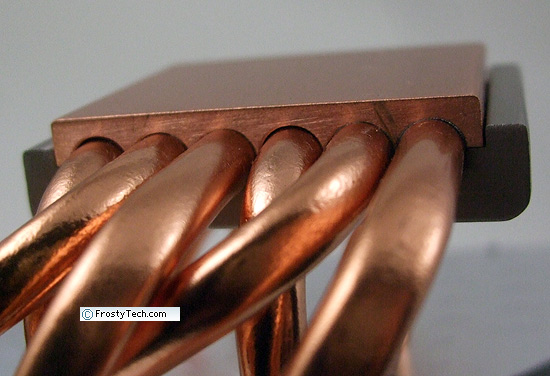 A little more solder may have been prudent, judging by the gaps still visible at the edge of the baseplate.
Heatsink Installation and Hardware
The DeepCool Gamer Storm Lucifer K2 heatsink accommodates the full range of Intel socket LGA2011/1366/115x/775 processors and AMD socket AM2/AM3/FM1/FM2 CPUs.

The mounting hardware includes a large rear motherboard support plate to prevent the board from flexing under the weight of this 1047gram heatsink. For both Intel and AMD mounting systems, small threaded nipples are attached to the studs on the rear support bracket and then the corresponding Intel or AMD brackets installed around the CPU socket. The heatsink mounts to these brackets with a common spring-tensioned fulcrum load plate that is keyed and adhesively bonded to the aluminum heatsink force plate.
Aside from the stainless steel mounting hardware, DeepCool supply four wire fan clips and a syringe of thermal grease.
FrostyTech's Test Methodologies are outlined in detail here if you care to know what equipment is used, and the parameters under which the tests are conducted. Now let's move forward and take a closer look at this heatsink, its acoustic characteristics, and of course its performance in the thermal tests!