360° View - DeepCool Gamer Storm Lucifer K2 Heatsink

---

Information on Frostytech's test methodology is available here.

The Lucifer K2 heatsink ships with a 120x120x20mm PWM fan that spins at 1800-600RPM. The 163mm tall heatsink incorporates six 6mm diameter copper heatpipes, a copper heatspreader and a 105mm tall aluminum fin stack. Each aluminum fin measures 0.4mm thick and is spaced a fairly wide 2.75mm apart. The bottom-most fin is elevated 45mm above the CPU.

The copper heat pipes are soldered to the copper base plate, the aluminum fins swaged onto the heatpipes. The base is capped with a 9mm section of aluminum that centers and supports the spring tensioned fulcrum mounting bar. The wire fan clips have small finger tabs at the top and bottom, which make removing the wire from the rough edges of the aluminum fairly easy.

The copper plate at the base of the Lucifer K2 heatsink measures 36x42mm in size and 2-5mm thick. Looking at the top of the heatsink, we can see the diamond impressions in the skin of the aluminum fins and the large cut out directly behind the fan motor. The cutouts also correspond to the location of mounting hardware screws; a long screw driver is an asset when installing this heatsink.
Base Finish and Flatness
Flipping a heatsink over to inspect the business end is often a simple indicator of overall cooler quality. More practically speaking, a heatsink is in many ways only as effective as the contact it makes with the processor - the flatter and smoother the better. Base finish is one of the criteria that Frostytech measure in the course of evaluating heatsinks, and it involves two distinct aspects. Surface Finish is the first; this is calculated with the aid of Surface Roughness Comparator that has a cross section of common machine surface finishes and their numerical surface roughness equivalents in microinches. The second is Surface Flatness. This is tested with an engineer's straight edge or proven flat surface, in two axes.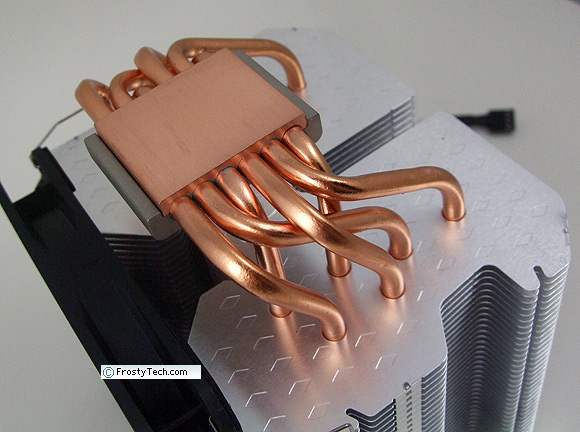 DeepCool's Gamer Storm Lucifer K2 heatsink has a smooth, sanded copper base plate. Surface roughness is at or better than ~16 microinches. According to the straight edge, the base is flat in one axis and very slightly convex in the direction of the sanding.
Up next, how loud is this heatsink?