On the review bench today we have Scythe's Ashura heatsink; this is a fairly standard tower cooler equipped with a 140mm fan. The Ashura cooler stands 162mm tall, making it suitable for full tower cases where AIO liquid coolers are often too bulky. It's relatively narrow footprint of 145x88mm means the Ashura heatsink is less likely to interfere with adjacent mobo components, memory modules and graphics cards.
The Ashura heatsink ships with a single 140mm PWM fan that operates at 1300-800RPM, moving upwards of 97CFM according to manufacturer specs. Noise output is modest at full fan speed and downright whisper quiet at 800RPM. Scythe also include an extra set of wire fan brackets so an additional 140/120mm fan (not included) can be mounted on the back of the tower, if desired.
Weighing 750grams, the Scythe Ashura heatsink is built around six 6mm diameter copper heatpipes which are soldered to a nickel plated copper base plate, rather than being left exposed in the 'heatpipe direct touch' fashion. The heatpipes are swaged into the 121x145x50mm aluminum fin stack and the two rows are offset just a little to break up potential low airflow regions. The heatsink is capped with a black anodized aluminum shroud for purely cosmetic reasons. The black plate presents a clean visual appearance when looking through windowed case side panels, for example.
Scythe's Ashura heatsink retails for about $45USD/CDN and is compatible with AMD socket AM2/AM3/FM1/FM2 processors and the full line of Intel LGA2011/1366/115x/775 CPUs.
Scythe Ashura Heatsink

---

heatsink specsheet
manufacturer: scythe
model no.: scythe ashura (scasr-1000)
materials: aluminum fins, copper heatpipes, aluminum base cap, nickel plated copper base plate
fan mfg: scythe sy1425hb12m-p
fan spec: 1300-800rpm, 12v, 0.37a
fan airflow: 97cfm
fan air pressure: 1.02-0.15 mmh2o
fan dim: 25x140x140mm
heatsink & fan dim: 154x123x72mm
weight: 750 grams
includes: multi-socket socket mounting hardware, thermal compound, instructions

---

Compatible with Sockets:
AMD - FM2/FM1/AM2/AM3
Intel - LGA2011/1366/115x/775
Pricing: $45USD ($45CDN)
The 140mm PWM fan that ships with the Ashura heatsink is a Scythe "GlideStream 140 PMW", it uses sleeve bearings. Two things are notable about this fan; 1) the top surface of each impeller blade features a series of shallow slits which Scythe claim reduces air resistance, 2) the eleven impeller blades are mounted on a relatively compact, 40mm diameter motor hub so more of the fan area is a "working surface".
The fan has its mounting holes spaced 105mm apart, so technically it can also mount anywhere a 120mm fan can go. You'll also notice in the photo below, the wire fan clips have no thumb tabs sticking out to potentially contact the back of a videocard. The springy wire clips aren't difficult to engage, so the lack of tabs simply adds to the heatsinks' slim profile.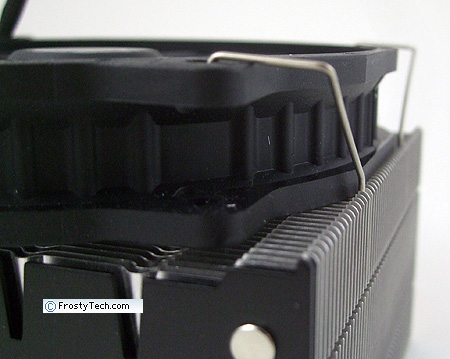 The heatsink fins are made from raw aluminum and feature a series of six small "V" bends along the leading and trailing edges. These bends supposedly help break up laminar airflow which can reduce metal-to-air heat conduction.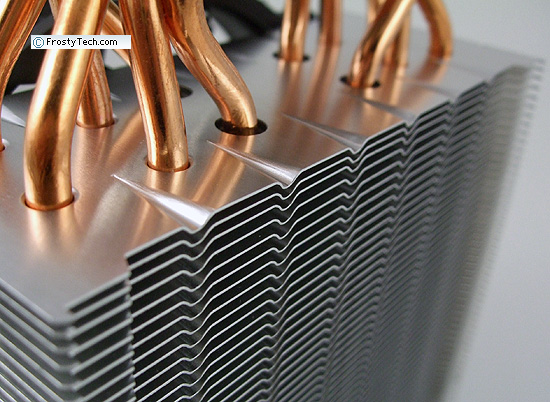 Heatpipes are soldered to the copper base plate to ensure good thermal conduction, however the heatsink Frostytech tested had visible gaps at the edges of perhaps 40% of these joints. The glue visible around the heatpipes is in fact from the application of the top aluminum cap which supports the mounting bracket.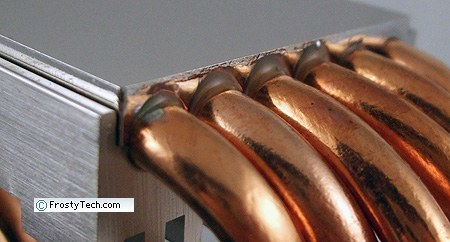 Multi-core processors can develop hot spots in regions of the CPU die, so heat spreaders are generally considered more beneficial than direct heatpipe contact systems because those hot regions can be conducted across multiple heatpipes. The trick is ensuring a thorough heatpipe-to-base plate solder joint.
Heatsink Mounting Hardware
The Scythe Ashura heatsink accommodates Intel socket LGA2011/1366/115x/775 processors and AMD socket AM2/AM3/FM1/FM2 CPUs. The Ashura ships with a metal rear motherboard support bracket, a variety of metal mounting brackets, associated hardware and an extra set of wire fan brackets. A small pack of grey thermal compound is also provided.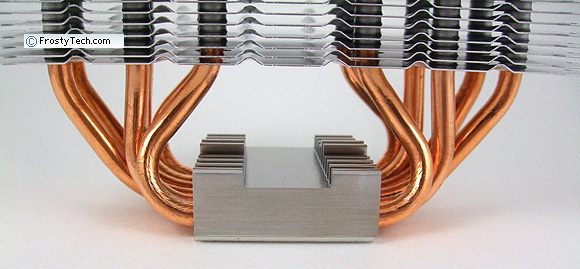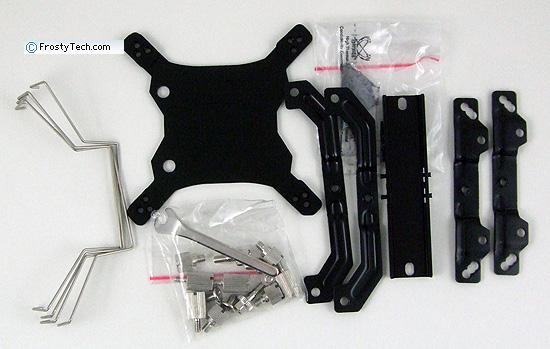 FrostyTech's Test Methodologies are outlined in detail here if you care to know what equipment is used, and the parameters under which the tests are conducted. Now let's move forward and take a closer look at this heatsink, its acoustic characteristics, and of course its performance in the thermal tests!