The Raijintek Tisis is a massive dual tower CPU cooler with twin fans, five big heatpipes and a kick-ass-and-take-names kind of look about it. It also has a pretty major design flaw which we'll get to in a moment.
The Tisis stands upwards of 168mm tall, weighs 1050grams and ships with a pair of 140x150mm PWM fans that spin at 1000-600RPM to drive up to 70CFM air through the unit. The heatsink occupies a fairly large footprint of 140x157mm, so measure your motherboard clearances first to ensure there is sufficient space: from the center of the baseplate, the heatsink extends ~65mm up, ~70mm left & right and ~95mm towards the intake fan.
The heatsink itself is constructed around five 8mm diameter copper heatpipes which are equidistantly spaced through two separate, 110mm tall aluminum fin stacks of differing thicknesses. The entire heatsink is heavily nickel plated and the heatpipes appear to be soldered to both the cooling fins and copper base plate for good measure.
As you'd expect, Raijintek's Tisis heatsink is compatible with Intel socket LGA2011/1366/1156/1155/1150/775 Core i3/i5/i7 processors and AMD socket AM2/AM3/FM1/FM2 chips. Since Raijintek is a relative new comer to the heatsink market, you may have a bit of hard time tracking down this particular model which retails for around $40-$60USD.
Raijintek Tisis Heatsink

---

heatsink specsheet
manufacturer: raijintek

model no.: tisis (or100001)

materials: nickel plated aluminum fins, copper heatpipes, aluminum base cap & copper baseplate
fan mfg: raijintek ag14025mlspaa
fan spec: (2) 1000-600rpm, 12v, 0.25a
fan airflow: 70cfm
fan dim: 25x140x150mm
heatsink & fan dim: 168x140x157mm
weight: 1050 grams
includes: multi-socket mounting hardware, thermal compound, instructions

---

Compatible with Sockets:
AMD - AM2/AM3/FM1/FM2
Intel - LGA2011/115x/775/1366/
Est. Pricing: $50USD / $50CDN
While many dual tower heatsinks feature identically sized aluminum cooling fins, the Raijintek Tisis takes a slightly different approach, literally. One set of cooling fins measure 56x140mm and feature a sawtooth pattern on the leading and trailing edges of each fin. The fin surface is also slightly textured, with raised and dimpled triangles that aim to break up laminar airflow.
The other set of cooling fins have little winglets punched into the trailing edges of the fins and angled knock-outs punched into the surface of the fin. This fin tower is a bit narrower, measuring just 45mm deep.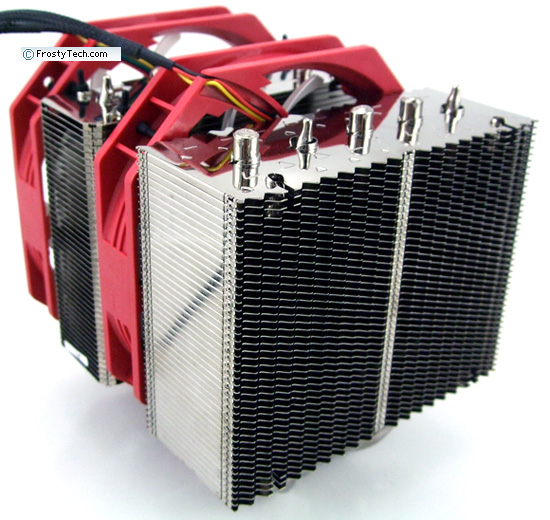 And before you ask which end of the Tisis heatsink is the front and which end is the rear.... I don't know. The heatsink was tested as it is pictured here, however the box graphics illustrate it with the fans mounted in both possible configurations.
Fan mounting design flaw:
The fans are held on with these little rubber fan mounting posts which lock into the fan frame and the corresponding end is supposed to slot into a key-hole cutouts along the edge of the aluminum fins.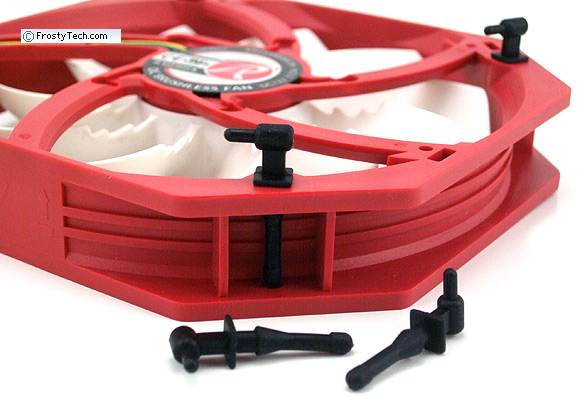 The rubber posts lock into the plastic fan frame easily enough, but getting them into the key-hole cutouts in the metal fins is rather tricky. At the bottom of the cooling fins the metal is punched in the direction these rubber posts are inserted, but at the top of the fins the metal is punched in the opposite direction which makes it difficult to insert them. Try as we might, we could not get the rubber fan mounts to stay in place at the top of the fin tower with any degree of reliably.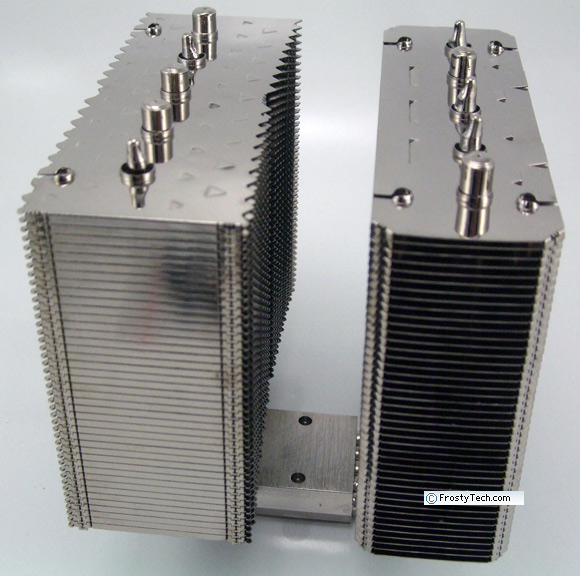 The rubber fan posts either refuse to insert all the way or steadily creep out of the slot and half the fan ends up falling free. Not an ideal situation when a heatsink like this will eventually be installed into a PC tower standing upright!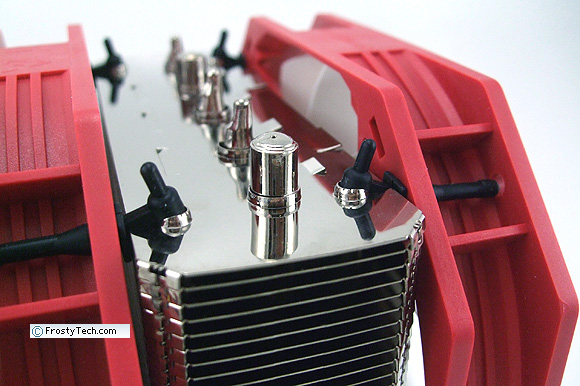 If there's a flaw to Raijintek's Tisis heatsink, you're looking at it in the picture above. THIS is why Frostytech is pro-wire fan clips.
Heatsink Installation Hardware:
Raijintek's Tisis heatsink installs onto Intel socket LGA2011/115x/775/1366 and AMD socket AM2/AM3/FM1/FM2 CPUs. Installation is pretty straightforward as he main metal mounting bracket is common to both AMD and Intel platforms. Keep in mind that the Tisis requires a case with at least 168mm unless you can get the fans to sit lower.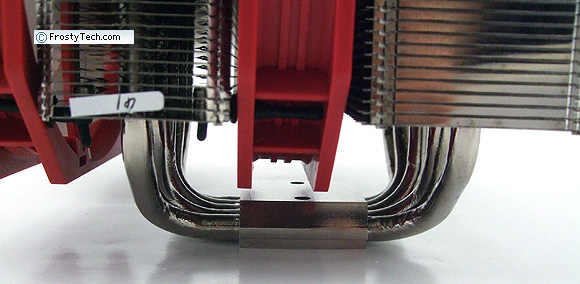 Raijintek include one extra rubber fan mount in case there is loss or breakage, however additional mounts are not supplied for a third rear-mounted fan. A small pack of thermal compound is included though.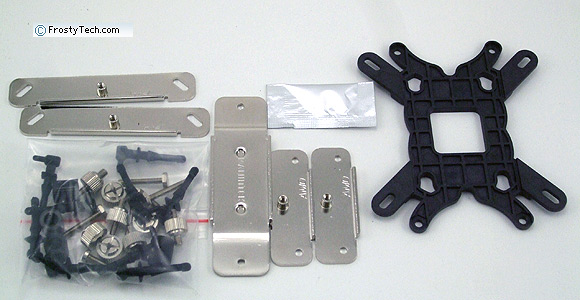 FrostyTech's Test Methodologies are outlined in detail here if you care to know what equipment is used, and the parameters under which the tests are conducted. Now let's move forward and take a closer look at this heatsink, its acoustic characteristics, and of course its performance in the thermal tests!