FrostyTech Mk.III Synthetic Thermal Heatsink Test Results

---

Intel Core i7, Extreme Edition class heatsinks tested at a 200W heat load.
Results based on readings from a 38x38mm copper interface die with 200W heat load on the Intel version of the Mk.III Test Platform. Temperature results listed for each heatsink were calculated by determining the rise over ambient temperatures at time of test. Information on Frostytech's test methodology is available here.
Socket LGA2011-3 / 2011 /1366 compatible CPU heatsinks

manufacturer:
model no.:
*fan speed:
200w thermal test (°c)
noise level (dba)

---

Coolermaster
Nepton 280L
high
10.6
58.8
Coolermaster
Nepton 140XL
high
11.8
59.6
Coolermaster
Seidon 240M
high
13.4
55.6
Silverstone
Tundra TD02
high
13.6
53.0
Coolermaster
Glacer 240L
high
14.1
52.5
NZXT
Kraken X60
high
14.5
60.7
Coolermaster
Nepton 240M
high
15.1
50.6
Noctua
NH-D15
high
15.8
49.8
Noctua
NH-U14S
17.0
47.3
Coolermaster
Seidon 120V
high
17.5
54.3
NZXT
Kraken X40
high
18.2
59.4
Reeven
Okeanos RC-1402
high
18.3
54.2
Reeven
Ouranos RC-1401
high
18.4
52.5
Silverstone
Tundra TD03
high
18.7
58.1
Silverstone
Argon AR01
high
18.8
53.0
X2 Products
Eclipse IV
high
19.1
57.4
Coolermaster
Eisberg 240L
high
19.1
50.5
Reeven
Justice RC-1204
high
19.2
48.5
BeQuiet
Dark Rock Pro 3
high
19.5
43.7
Raijintek
Themis
high
19.7
52.8
Coolermaster
V8 GTS
high
20.0
59.7
BeQuiet
Dark Rock 3
high
20.9
41.8
Corsair
Hydro H80i
high
21.1
64.0
Noctua
NH-U12S
21.1
46.2
Raijintek
Ereboss
high
21.4
49.7
Zalman
Reserator 3 Max
high
21.6
58.9
Scythe
Mugen 4
high
21.7
41.9
Zalman
LQ315
high
21.9
50.8
Silverstone
NT06-P
high
22.1
51.6
Raijintek
Pallas
high
22.2
43.2
DeepCool
Gamer Storm Lucifer
high
23.0
52.5
Raijintek
Aidos
high
23.0
55.6
Reeven
Hans RC-1205
high
23.1
49.4
Silentium
Fera2 HE1224
high
23.4
37.6
Zalman
LQ310
high
23.8
52.7
Coolermaster
Hyper D92
high
24.1
53.4
Scythe
Ashura Shadow (SCASR-1000SE)
high
24.2
51.4
Raijintek
Tisis
high
24.6
47.8
BeQuiet
Shadow Rock Slim
high
24.7
40.4
BeQuiet
Shadow Rock 2
high
24.9
43.3
Zalman
LQ320
high
25.5
50.2
npowertek
NPH-1366-115HC (LGA1366)
high
28.7
44.8
Raijintek
Tisis
low
28.9
35.4
Dynatron
G556 (LGA1366/2U)
29.1
68.4
Dynatron
G555 (LGA1366/2U)
30.4
67.8
DeepCool
Gamer Storm Lucifer
31.2
33.4
Dynatron
G666 (LGA1366/2U)
31.8
68.7
Silverstone
NT01-Pro
high
35.8
40.4
nPowerTek
NPH1366-140HC (LGA1366)
high
36.3
48.1
Zalman
FX-100 (w/h ZM-F2 fan)
36.9
28.5
Dynatron
G199 (LGA1366/1U)
47.6
62.6
Zalman
FX-100 (hor, ver)
63.0
0.0
200w thermal test (°c)
noise level (dba)
*heatsinks are ranked according to the 200w thermal test results column (rise over ambient temp.). low temperatures with low noise levels are considered best. for reference heatsinks with variable-speed fans, only the high speed (12v) fan test result is included in the comparison sheet; more detailed results reside in each specific heatsink review.
frostytech's socket LGA2011 Intel synthetic thermal test platform stresses socket LGA2011/1366 compatible heatsinks with a 200W heat load. Keep in mind that the AMD Integrated Heat Spreader and Intel LGA2011 Integrated Heat Spreader both measure ~38x38mm, so these test results can be extrapolated to higher wattage AMD processors as well.
With a 200W heat load applied by the Intel LGA2011/1366 version of FrostyTech's synthetic thermal test platform, the Raijintek Tisis heatsink is able to maintain a very good temperature test result of 24.6°C over ambient at stock fan speed. After decreasing the speed of its twin 140mm fans from 1000RPM to 600RPM, the synthetic CPU die temperature increased to 28.9°C over ambient while noise output fell from 47.8dbA to 35.4 dbA.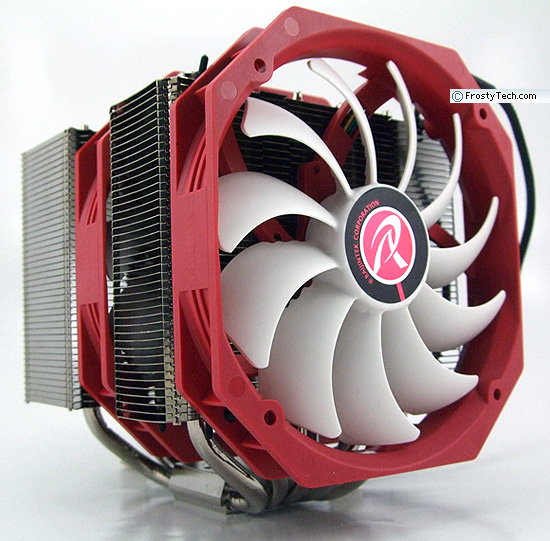 Conclusions
Raijintek's Tisis heatsink is an all around good performing heatsink on all three synthetic thermal test platforms, provided your computer case can accommodate its ~168mm height, it's certainly well worth considering.
That being said, there are a couple aspects of the Raijintek Tisis which are less than ideal. The rubber fan mounts are not a design specific to Raijintek, we've seen them used excessively with Spire heatsinks for years, for example. For as long as Frostytech has been reviewing heatsinks we've been complaining about the style of rubber fan post which slots into a tubular groove in the cooling fins. They are difficult to install correctly, opt to pop free on their own and difficult to adjust - in short, I don't like them and I don't really trust them.
Wire fan clips would have been a significant improvement to the Tisis heatsinks' design. Aside from that, Raijintek would do well to pull back on level of nickel plating, or at the very least flatten the base plate a little more post soldering. In short, the Raijintek Tisis has the makings of a really great air cooler, but it falls short on fit and finish in these areas.
Related Articles:
The Top 5 best heatsinks for low noise and low temperature are ranked here. For more reviews on the latest heatsinks and cooling solutions, rely on FrostyTech's inventory of 400+ heatsink reviews. Here are a few other articles that you might enjoy as well.
- Silverstone Argon AR01 Heatsink Review
- DeepCool Gammaxx S40 Heatsink Review
- Gelid Black Edition Heatsink Review
- Noctua NH-L12 Low Profile Heatsink Review
- Zalman CNPS9900DF Heatsink Review
- Coolermaster Gemin II M4 Heatsink Review