Heatsinks. Where would your computer be without one!
In this review Frostytech will be testing the Reeven Hans (RC-1205) heatsink, a 151mm tall tower cooler built around the usual mix of heatpipes, aluminum fins and a weighty copper base. Reeven a relatively new Taiwanese thermal solutions brand, though judging by the box art and company address, it appears to be mainstream-geared Scythe Co. Ltd. off-shoot. Reeven ship the Hans RC-1205 heatsink with a single 120mm PWM fan that operates at 1500-300RPM, shifting between 17CFM - 82CFM according to the manufacturer specs. The lower fan speed is really too low to be practical and although the narrow footprint of the Reeven RC-1205 CPU cooler makes it seem prime candidate for doubling up fans, no extra wire fan clips are supplied.
The Reeven Hans RC-1205 heatsink weighs in at 710 grams and accommodates the full range of Intel processors (socket LGA2011-3/2011/1366/115x/775) and AMD CPUs (socket AM2/AM3/FM1/FM2). The cooler itself is comprised of a 111mm tall aluminum fin stack connected by four 6mm diameter nickel plated copper heatpipes to a 5mm thick, nickel plated copper base plate which acts as a heatspreader. The RC-1205 heatsink has a relatively narrow footprint of 125x80mm.Reeven's Hans RC-1205 heatsink is estimated to retail for around $35 USD.
Reeven Hans RC-1205 Heatsink

---

heatsink specsheet
manufacturer: reeven
model no.: hans (rc-1205)
materials: aluminum fins, copper heatpipes, copper base plate
fan mfg: reeven rm1225s15b-p
fan spec: 1500-300rpm, 12v, 0.25a
fan dim: 25x120x120mm
fan rating: 75-82cfm
heatsink & fan dim: 151x125x80mm
weight: 710grams
includes: multi-socket mounting hardware, thermal compound, instructions

---

Compatible with Sockets:
AMD: AM2/AM3/FM1/FM2
Intel: LGA2011-3/2011/1366/115x/775
Est. Pricing: $35USD ($35CDN)
There is nothing particularly remarkable with the Reeven Hans (RC-1205) heatsink's design, but curiously, that always makes for an interesting review since we can't anticipate how such coolers perform on the synthetic thermal test platforms.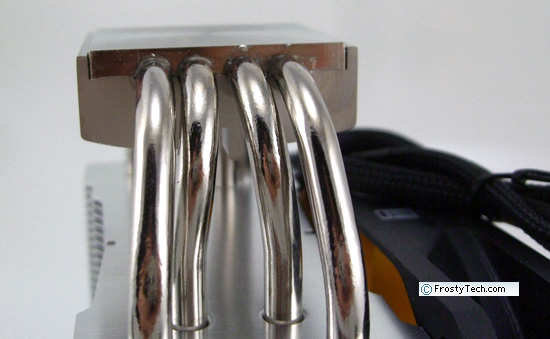 I'm not entirely sure if this heatsink was a pre-production model or not as Reeven did experience initial delays in getting the units to us for review, but you'll notice in the photo above there appears to be clear solid at the joint between the aluminum cap and nickel plated copper base plate/heatpipes. I suppose this could be flux residue, or the heatpipes were soldered to the copper base and adhesive used to mount the aluminum cap which supports the mounting bracket. Without deconstructing the heatsink it's not possible for us to say one way or the other.
Heatsink Installation and Hardware
The Reeven Hans (RC-1205) heatsink ships with two sets of metal brackets that screw onto the motherboard to accommodate the full gamut of Intel LGA2011-3/2011/1366/115x/775 and AMD AM2/AM3/FM1/FM2 processors.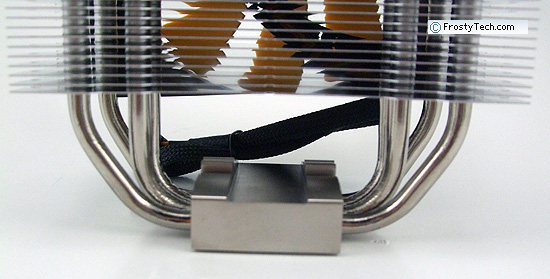 A rear motherboard support plate needs to go behind the motherboard, so be prepared to pull the side off your computer case to install this CPU cooler. A fulcrum applies mounting pressure to the base of the heatsink to (ideally) apply an equal level of force. Beyond the mounting hardware, Reeve include a pack of grey thermal grease.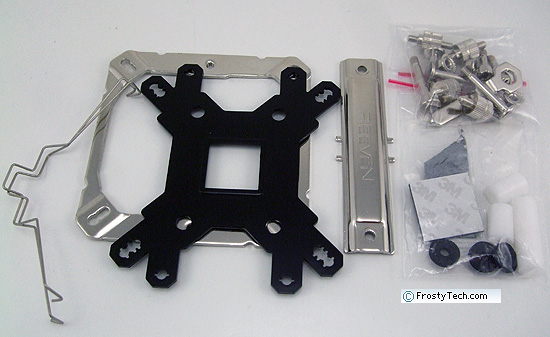 FrostyTech's Test Methodologies are outlined in detail here if you care to know what equipment is used, and the parameters under which the tests are conducted. Now let's move forward and take a closer look at this heatsink, its acoustic characteristics, and of course its performance in the thermal tests!