360° View - Reeven Hans (RC-1205) Heatsink

---

Information on Frostytech's test methodology is available here.

The Reeven Hans (RC-1205) ships with a 120mm PWM fan mounted to the aluminum cooling fins directly, by way of wire fan clips. The 151mm tall heatsink incorporates four 6mm diameter copper heatpipes which rise up through the 111mm tall aluminum fin stack. Fins measure 0.3mm thick and are spaced 1.75mm apart. The bottom-most fin is elevated 40mm above the motherboard for clearance.

The four 6mm diameter copper heat pipes are attached by unknown means to a 2-4.5mm thick nickel plated copper heatspreader at the base. The springy wire fan clips feature small finger grabs, so removing the fan isn't difficult at all.

Viewed from the top, the Reeven Hans (RC-1205) heatsink is fairly unremarkable - a decorative aluminum bezel covers the tops of the heatpipes for purely aesthetic reasons and a 6.5mm plenum separates the rear of the fan frame from the leading edge of the cooling fins. On the working end of the Hans heatsink, the turned copper base plate is nickel plated to resist oxidation. The base plate measures 38x43mm in size.
Base Finish and Flatness
Flipping a heatsink over to inspect the business end is often a simple indicator of overall cooler quality. More practically speaking, a heatsink is in many ways only as effective as the contact it makes with the processor - the flatter and smoother the better. Base finish is one of the criteria that Frostytech measure in the course of evaluating heatsinks, and it involves two distinct aspects. Surface Finish is the first; this is calculated with the aid of Surface Roughness Comparator that has a cross section of common machine surface finishes and their numerical surface roughness equivalents in microinches. The second is Surface Flatness. This is tested with an engineer's straight edge or proven flat surface, in two axes.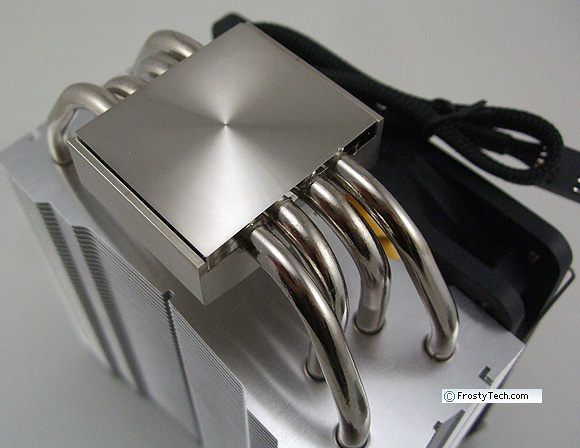 Reeven's Hans (RC-1205) heatsink has mounting base measuring 38x43mm. The surface finish is machine finished, with a surface roughness of approximately 16 microinches. According to the straight edge, the base concave in one axis and very slightly concave in the opposite axis.
Up next, acoustic sound measurements.