The Coolermaster Hyper D92 is a moderately sized CPU cooler which stands 147mm tall and weighs 636 grams. The Hyper D92 ships with not a 120mm or 140mm fan, but rather a pair of 92mm fans that spin at 2800-800RPM. The two "small" 92mm fans are mounted in a push-pull configuration and move upwards of 15-55CFM according to manufacturer specs. Using a pair of 92mm fans on a modern heatsink compatible with Intel LGA2011-3 sockets may seem terribly risky in this day and age, after all, an overclocked CPU can peak near 180W TDP, but the Hyper D92 has a couple tricks up its sleeves.
On a typical heatsink with front and rear fans, the fans are mounted in a straight line. On the Hyper D92 heatsink from Coolermaster, the two fans are offset left and right by 20mm. That offset means there is extra space for the aluminum fin tower bust out to the left and right similarly.
The rest of the Hyper D92 heatsink is pretty straight forward. The cooler itself is built around four 6mm diameter copper heatpipes which are exposed at the base and rise up through a 91mm tall aluminum fin stack. The whole heatsink has a relatively 'compact' footprint of 147x127x99mm.
Coolermaster's Hyper D92 heatsink is compatible with all of today's current processors, including the newly announced Intel LGA2011-3 socket. Otherwise, it accommodates Intel socket LGA2011-3/2011/1366/115x/775 and AMD socket AM2/AM3/FM1/FM2 processors. The Hyper D92 heatsink retails for about $40 at NXIC.com
Coolermaster Hyper D92 Heatsink

---

heatsink specsheet
manufacturer: coolermaster
model no.: hyper d92 (rr-hd92)
materials: aluminum fins, copper heatpipes
fan mfg: coolermaster a9225-28rb-4bp-f1
fan spec: (x2) 2800-800rpm, 12v, 0.60a
fan dim: (x2) 25x92x92mm
fan rating: 15-55cfm
heatsink & fan dim: 147x127x99mm
weight: 636 grams
includes: multi-socket mounting hardware, thermal compound, instructions

---

Compatible with Sockets:
AMD: AM2/AM3/FM1/FM2
Intel: LGA2011-3/2011/1366/1366/115x/775
Est. Pricing: $40USD ($40CDN)
20mm Offset Fans
By far the most unique aspect of the Coolermaster Hyper D92 heatsink are its offset fans and asymmetrical aluminum fin stack. The font (intake) and rear (exhaust) 92mm PWM fans are offset laterally by 20mm, while the aluminum fins conform to the void created by the offset. It's the same approach Coolermaster rolled out in 2009 with the Hyper N520 heatsink.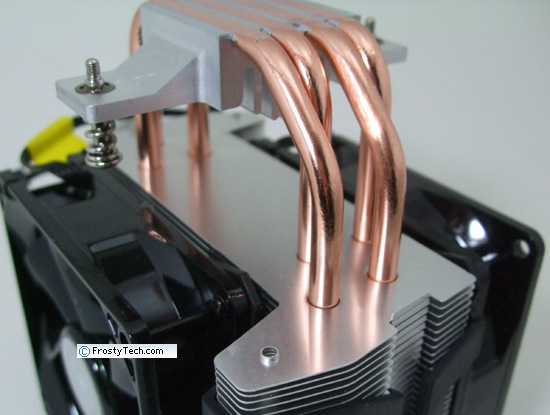 Offsetting the fans could help mitigate the dead space typically found behind the fan motor hub. It could also improve issues with back pressure since airflow in this design can be drawn in from / exhausted out the sides of the Hyper D92 instead of only passing from one fan to the next fan.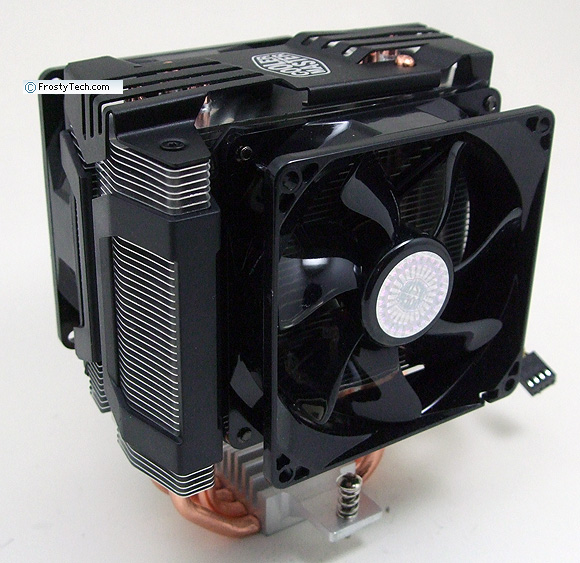 If you've ever monitored the RPM of a pair of intake-exhaust fans you'll undoubtedly have noticed that the speed of the exhaust fan is somewhat slaved to the intake fan and generally a few hundred RPM slower. By offsetting the fans 20mm, the Hyper D92 heatsink allows air to enter from the side of the fin stack as needed.
Heatsink Installation and Hardware
The Coolermaster Hyper D92 heatsink ships with two sets of metal brackets that screw onto the motherboard to accommodate the full gamut of Intel LGA2011-3/2011/1366/1366/115x/775 and AMD AM2/AM3/FM1/FM2 processors.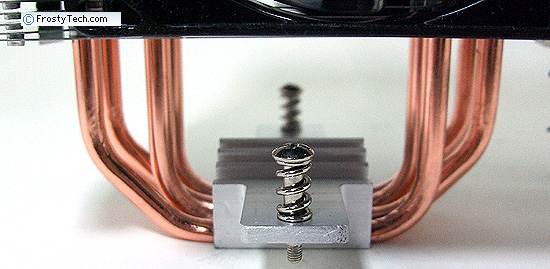 A rear motherboard support plate needs to go behind the motherboard, so be prepared to pull the side off your computer case to install this CPU cooler. Spring tensioned, shouldered screws ensure that the Coolermaster Hyper D92 heatsink is attached to the motherboard mounting brackets with the correct and equal level of force each time. Beyond the mounting hardware, Coolermaster supply a syringe of thermal grease and 2-to-1 fan power cable adaptor.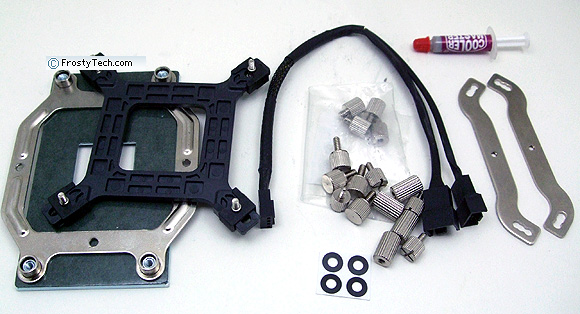 FrostyTech's Test Methodologies are outlined in detail here if you care to know what equipment is used, and the parameters under which the tests are conducted. Now let's move forward and take a closer look at this heatsink, its acoustic characteristics, and of course its performance in the thermal tests!