360° View - Coolermaster Hyper D92 Heatsink

---

Information on Frostytech's test methodology is available here.

The Hyper D92 ships with two 92mm PWM fans mounted in an offset push-pull configuration with easy to engage/disengage plastic clips. The 147mm tall heatsink incorporates four 6mm diameter copper heatpipes which are exposed at the base and a 91mm tall stack of aluminum cooling fins. The aluminum fins are spaced 1.5mm apart and measure 0.3mm thick. The bottom-most fin is elevated 46mm above the motherboard for clearance.

The four 6mm diameter copper heat pipes are swaged into an aluminum base plate which pulls double-duty as the heatsink mounting bracket. Tip of the hat to Coolermaster for using spring-tensioned mounting screws here.

Viewed from the top, the asymmetrical shape of the cooling fins is clearly evident. The bulk of the aluminum fins are 120x40mm, the protuberances extend a further 20mm. The base area of the Hyper D92 measures 36x40mm.
Base Finish and Flatness
Flipping a heatsink over to inspect the business end is often a simple indicator of overall cooler quality. More practically speaking, a heatsink is in many ways only as effective as the contact it makes with the processor - the flatter and smoother the better. Base finish is one of the criteria that Frostytech measure in the course of evaluating heatsinks, and it involves two distinct aspects. Surface Finish is the first; this is calculated with the aid of Surface Roughness Comparator that has a cross section of common machine surface finishes and their numerical surface roughness equivalents in microinches. The second is Surface Flatness. This is tested with an engineer's straight edge or proven flat surface, in two axes.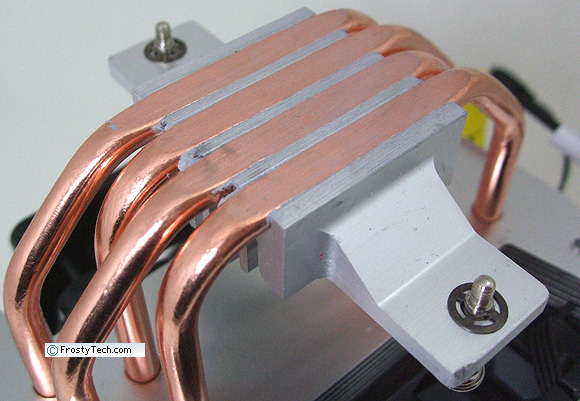 Coolermaster's Hyper D92 heatsink has a fairly small mounting base which measures 36x40mm. The base consists of four exposed heatpipes swaged into an aluminum base plate. The surface finish is sanded, with surface roughness of approximately 64 microinches. According to the straight edge the base is perfectly flat in one axis and very slightly wavy in the axis perpendicular to the lay of the heatpipes.
Up next, acoustic sound measurements.