Computer enthusiasts are funny bunch, always on the look out for better, faster, cooler, quieter and less expensive. All in One liquid coolers are relatively expensive, but this hasn't slowed their adoption too much. Fancy new cooling concepts like the CapTherm MP1120 CPU heatsink recently unveiled at CES2014 push the envelope even further... but who's willing to spend an estimated $250 on a thermosyphon air cooler?! As with the $600 Prometeia phase change coolers of olden days, there are a few performance enthusiasts clearly willing to shell out a lot of money for low temperatures.... and many more who just want something "cool enough", but quiet.
In this review Frostytech is checking out the boxy BeQuiet's Shadow Rock 2 heatsink which stands 159mm tall and weighs in at 1120grams. This heatsink has a footprint of 122x122mm without a fan, 122x149mm with the supplied 1600-800rpm, 120mm PWM fan installed. While most motherboards will be accommodating, it's a good idea to measure your clearances first.
BeQuiet's Shadow Rock 2 heatsink is built around four 8mm diameter copper heatpipes which are soldered to a chunky nickel plated copper heat spreader at the base. The heatpipes rise up through a 108mm raw aluminum fin stack (the fins are swaged onto the heatpipes). A single BeQuiet PureWings2 fan is supplied with the heatsink, it's capable of moving 51cfm at full speed, according to the manufacturer.
The Shadow Rock 2 CPU cooler is rated for heat loads up to 180W TDP by its maker, but Frostytech is going to push that envelope all the way to 200W of heat! Muhahha.
BeQuiet's Shadow Rock 2 heatsink is compatible with AMD socket AM2/AM3/FM1/FM2/939/754/940 CPUs and Intel LGA2011/1366/115x/775 processors. Retail price is $59 CDN at NCIX.com.
BeQuiet Shadow Rock 2 Heatsink

---

heatsink specsheet
manufacturer: bequiet
model no.: shadow rock 2 (bk013)
materials: aluminum fins, copper heatpipes, aluminum base cap, nickel plated copper base plate
fan mfg: bequiet purewings2 bqpuw2-12025-mr-pwm
fan spec: 1600-800rpm, 12v, 0.2a
fan airflow: 51cfm
fan dim: 25x120x120mm
heatsink & fan dim: 159x122x149mm
weight: 1120 grams
includes: multi-socket socket mounting hardware, thermal compound, instructions

---

Compatible with Sockets:
AMD - FM2/FM1/AM2/AM3/754/939/940
Intel - LGA2011/1366/115x/775
Pricing: $59USD ($59CDN)
The 120mm BeQuiet PureWings2 fan employs a unique fin geometry as you can see above. The top and bottom faces of the impeller blades are covered with shallow waves which are intended to "optimize airflow" over the surfaces. Fan speed ranges from 1600RPM (stock) to 800RPM.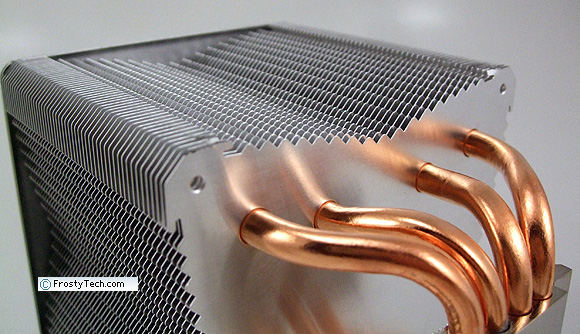 Unlike BeQuiet's more recent heatsinks, there is no rubber bumper around the fan frame to prevent vibrations or fan-to-aluminum fin noises from developing. The fan can be mounted on any side of the cooling fin tower as all sides are identical.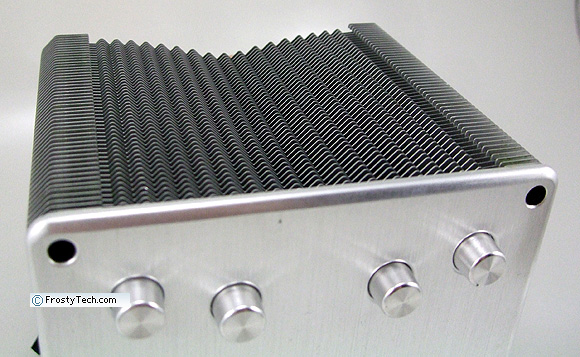 The leading and trailing edges of the aluminum fins have a saw toothed profile. We've seen this profile before on countless other tower-fin-coolers. This shape is supposed to reduce back pressure by making it easier for air impinging on the edges of the aluminum fins to enter the fin stack.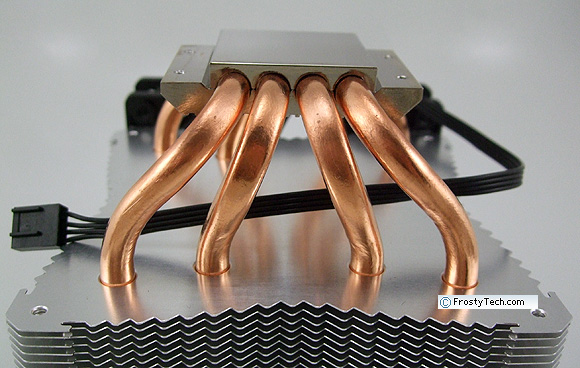 As we mentioned before, the BeQuiet Shadow Rock 2 is built around hefty heatpipes - these four are 8mm in diameter. No information on the type of wick structure they use is disclosed.
Heatsink Mounting Hardware
The BeQuiet Shadow Rock 2 heatsink installs onto the full range of Intel socket LGA2011/1366/115x/775 processors and AMD socket AM2/AM3/FM1/FM2/754/939/940 CPUs. The cooler ships with one rear motherboard support bracket and a collection of metal mounting brackets and associated hardware. A small syringe of thermal compound is also supplied.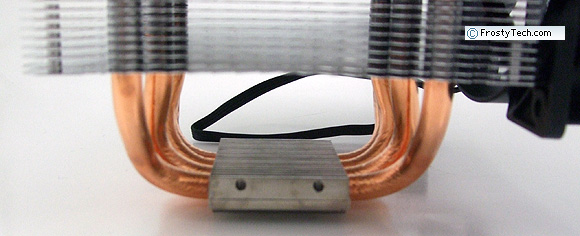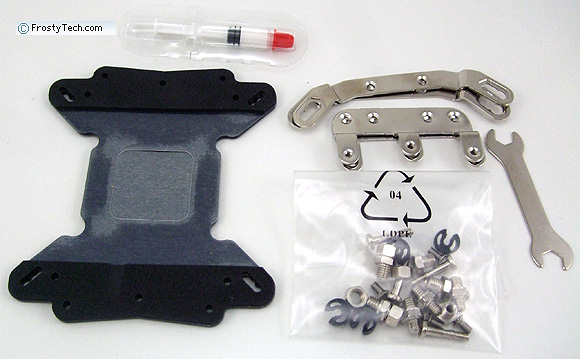 FrostyTech's Test Methodologies are outlined in detail here if you care to know what equipment is used, and the parameters under which the tests are conducted. Now let's move forward and take a closer look at this heatsink, its acoustic characteristics, and of course its performance in the thermal tests!