SilentiumPC is a new thermal solutions brand out of Poland that focuses, in part, on economical heatsinks geared towards lower noise cooling. I know what you're thinking - the world doesn't need another heatsink - but it certainly could do with more affordable silent CPU coolers! Silent is good, as they say. In this review Frostytech will be testing out the SilentiumPC Fera2 HE1224 heatsink.
The Fera2 HE1224 is a 154mm tall CPU cooler built around four 6mm diameter exposed copper heatpipes. The overall design is not unlike Deepcool's Ice Wind Pro, so it will be interesting to see how the two compare. The Fera2 HE1224 stands 154mm tall, is 123mm wide and 72mm deep. The relatively thin profile should allow it to fit with ease in most motherboards, with a minimum of interference from near by memory module or VRM motherboard heatsinks. The cooler weighs 555 grams and ships with a very quiet 120mm PWM fan that spins at 1400-600RPM, moving upwards of 55CFM according to manufacturer specs. The fan is attached with wire fan clips (a good sign). I've never been a fan (pun intended!) of those pull-type rubber fan posts, they break far too easily. An extra set of wire fan clips are also included.
Retailing for around $30 USD/CDN, the SilentiumPC Fera2 HE1224 heatsink is compatible with AMD socket 754/939/940/AM2/AM3/FM1/FM2 and Intel LGA2011/1366/115x/775 processors.
SilentiumPC Fera2 HE1224 Heatsink

---

heatsink specsheet
manufacturer: silentiumpc
model no.: fera2 he1224
materials: aluminum fins, copper heatpipes, aluminum base cap
fan mfg: n/a
fan spec: 1500-600rpm, 12v, 0.12a
fan airflow: 55cfm
fan dim: 25x120x120mm
heatsink & fan dim: 154x123x72mm
weight: 555 grams
includes: multi-socket socket mounting hardware, thermal compound, instructions

---

Compatible with Sockets:
AMD - FM2/FM1/AM2/AM3/754/939/940
Intel - LGA2011/1366/115x/775
Pricing: $30USD ($30CDN)
The leading and trailing edges of the aluminum fins have a small pattern to help break up airflow as it enters the fin stack.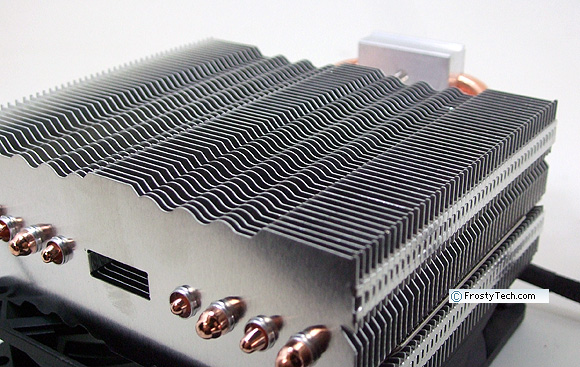 Note how the heatpipes pass through the center line of the SilentiumPC Fera2 HE1224 heatsink; the four 6mm diameter heatpipes are swagged into the aluminum base block such that the center-most heat pipes land in the middle of the fin stack. The aluminum to copper joints are all swaged, solder is not used.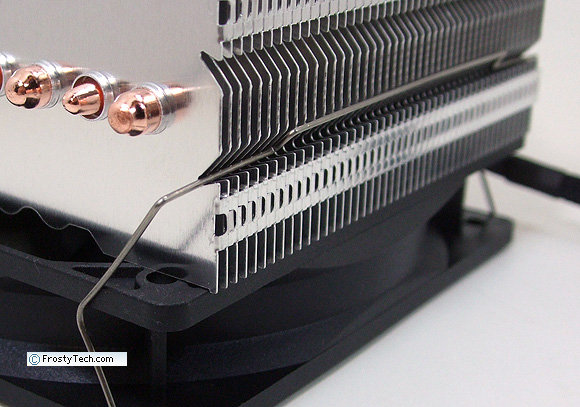 The stack of aluminum fins itself measures 105mm tall, 122.5mm wide and 46mm deep.
Heatsink Mounting Hardware
The SilentiumPC Fera2 HE1224 heatsink ships with a rear motherboard support frame for socket LGA2011/1366/115x/775 Intel motherboards and AMD socket 754/939/940/AM2/AM3/FM1/FM2 boards. This heatsink only weighs 555 grams, but the mounting screws firmly keep it in place.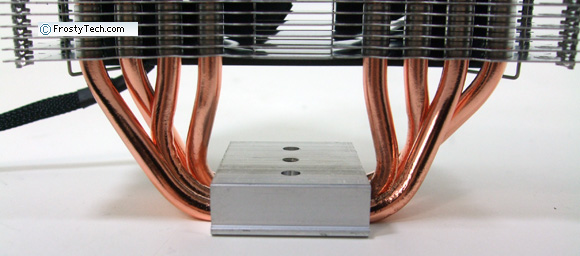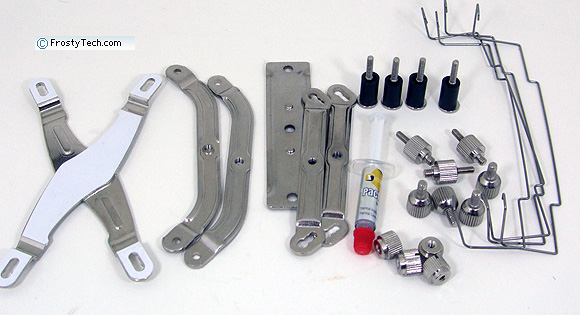 As we mentioned, there is an extra set of fan brackets in the box. A small syringe of thermal compound is also supplied.
FrostyTech's Test Methodologies are outlined in detail here if you care to know what equipment is used, and the parameters under which the tests are conducted. Now let's move forward and take a closer look at this heatsink, its acoustic characteristics, and of course its performance in the thermal tests!