The Dynatron G666 is a 2U server heatsink buit to handle Intel LGA1366 Xeon processors with a TDP of 130 Watts. In this review Frostytech will be testing the 65mm tall Dynatron G666 with a 200 Watt heat load.
The heatsink is built with a 60mm fan embedded at the front, directing airflow through a short stack of aluminum cooling fins which are connected to a copper base plate by three 6mm diameter heatpipes. The space before and after the heatpipes is filled with two narrow strips of skived copper fins for added cooling surface area. In other words, the Dynatron G666 2U server heatsink uses three different techniques to get the job done, albeit with a 25x60x60mm fan that rotates at an ear splitting 8,000RPM. Like the other Dynatron 1U & 2U server heatsinks, the G666 is not quiet.
The 60mm fan moves air at upwards of 46CFM, while producing 68.7 dBA noise. It can slow to 1700RPM (8.5CFM) during low duty cycles and is rated to between 0.875mm-H2O to 19.2mm-H20 static pressure. Fan life expectancy is listed at 50,000 hrs. The motor shaft is supported by a set of ball bearings to ensure operational longevity in the hot confines of a 2U rack mount chassis.
Dynatron's G666 2U server heatsink is constructed around a large copper base plate, onto which the heatpipes are glued in place with thermal adhesive into three small semi-circular channels. Obviously, soldering copper heatpipes to the copper base plate would have improved thermal joint resistance.
Weighing in at 500 grams, Dynatron's G666 2U server LGA1366 heatsink retails for about $50 and includes a pre-applied patch of Shin-Etsu G751 thermal compound so it's ready for installation right out of the box. It installs on to Intel LGA1366 Xeon processors.
Dynatron G666 2U Server Heatsink

---

heatsink specsheet
manufacturer: dynatron
model no.: g666
materials: aluminum, skived copper base, copper heat pipes
fan mfg: top motor df126025bu

fan spec: 8000rpm, 12v, 0.80a

fan dim: 25x60x60mm

heatsink & fan dim: 65x81x81mm
weight: 500 grams
includes: pre-applied thermal compound, mounting screws.

---

Compatible with Sockets:
AMD: none
Intel: LGA1366 (2U height)

Est. Pricing: $50USD ($50CDN)
The fan is mounted in front of the aluminum and copper cooling fins, but within the envelope of the G666 thermal solution. Approaching a heatsink design in this way means some cooling surface area has to be displaced by the 60mm fan.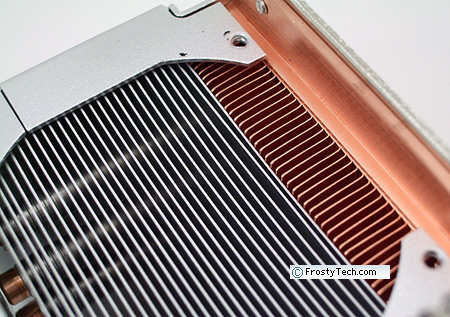 It's difficult to see, but there are three 6mm diameter heatpipes in there, thermally connecting the aluminum fins to the copper base plate. The skived copper fins seem to be more of an afterthought, but will help shed heat.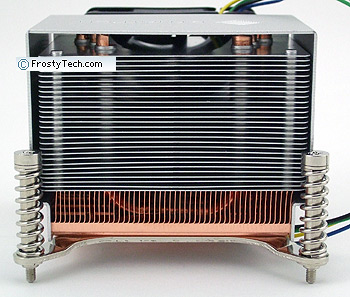 With heatsinks that intake air front to back, chassis airflow is also quite important. If the 2U server chassis doesn't have adequate ventilation the heatsink may end up recycling air within the chassis.
Installation Hardware
Dynatron's G666 2U server heatsink includes a pre-applied patch of thermal compound and four spring-tensioned Intel socket LGA1366 mounting screws. The captive mounting hardware is attached to the body of the heatsink, so the cooler need only be removed from its packaging before being installed. A phillips screw driver can be used to torque down the four mounting screws to firmly hold it in place.
FrostyTech's Test Methodologies are outlined in detail here if you care to know what equipment is used, and the parameters under which the tests are conducted. Now let's move forward and take a closer look at this heatsink, its acoustic characteristics, and of course its performance in the thermal tests!