360° View - Dynatron G666 2U Server Heatsink

---

Information on Frostytech's test methodology is available here.

The 25x60x60mm PWM fan spins at 8000RPM and draws power from a standard 4-pin motherboard header. Air blown through a combination of stacked aluminum fins around three heatpipes and skived copper fins. The aluminum fins are 0.4mm thick and spaced 1.0mm apart. The skived copper fins are 0.3mm thick.

The aluminum fins occupy 40x76x53mm, while the skived copper fins are really just two 10mm tall by 68mm long that are only 12mm and 10mm wide respectively. The copper heat spreader is 3-6mm thick. Note the captive, spring tensioned screws for installation onto socket LGA1366 Intel Xeon processors.

Three 6mm diameter copper heatpipes are glued to the copper base plate of near the center, with one heatpipe just off to the center of the CPU mounting pad area. The patch of pre-applied thermal compound is 35x35mm in area.
Base Finish and Flatness
Flipping a heatsink over to inspect the business end is often a simple indicator of overall cooler quality. More practically speaking, a heatsink is in many ways only as effective as the contact it makes with the processor - the flatter and smoother the better. Base finish is one of the criteria that Frostytech measure in the course of evaluating heatsinks, and it involves two distinct aspects. Surface Finish is the first; this is calculated with the aid of Surface Roughness Comparator that has a cross section of common machine surface finishes and their numerical surface roughness equivalents in microinches. The second is Surface Flatness. This is tested with an engineer's straight edge or proven flat surface, in two axes.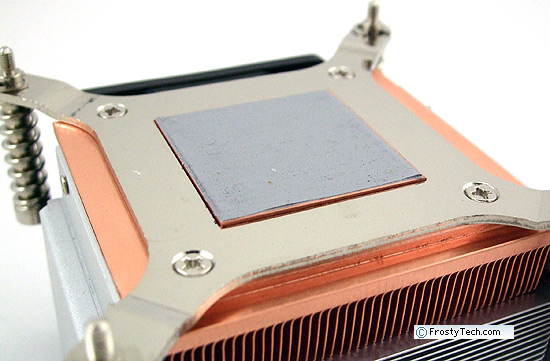 The copper base of the Dynatron's G666 heatsink has a machined surface finish which is perfectly flat in both axes. A minimal machining texture is left in the copper, giving it a surface roughness of approximately ~32 microinches.
Next up, let's see how this heatsink handles the heat compared to a selection of other heatsinks!